Constance Briscoe faces extra charge over Huhne case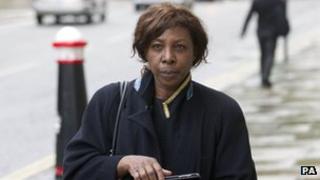 A part-time judge has been charged with an additional count of perverting the course of public justice in connection with the Chris Huhne speeding case.
Constance Briscoe pleaded not guilty at the Old Bailey on Tuesday.
She is accused of providing police with two inaccurate statements and altering a copy of a police witness statement.
Former cabinet minister Chris Huhne was jailed in March, as well as his ex-wife Vicky Pryce, after she took speeding points for him.
Both have since been released from prison.
Mr Justice Nicol has lifted a ban on reporting the latest charge against Ms Briscoe, which alleges she falsified a document.
She will face trial for all three charges at Southwark Crown Court on 14 January.
Ms Briscoe, 56, was suspended from working as a judge by the Office for Judicial Complaints after her arrest in October last year.
'Deeply distressed'
The 56-year-old previously denied two counts of intending to pervert the course of public justice.
In a statement when she was charged on 12 June, Ms Briscoe said she was "deeply distressed".
She added: "I have not committed the offences alleged against me and I will fight the allegations in court."
Huhne, 58, stepped down from his post as Energy Secretary in February after he was told he faced charges for perverting the course of justice.