Campaigner Caroline Criado-Perez upset CPS did not inform her of Twitter charges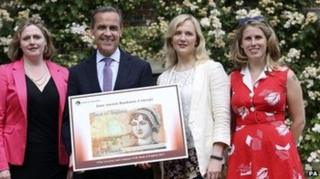 Campaigner Caroline Criado-Perez is to complain to the Crown Prosecution Service after it publicly announced two people had been charged over abusing her on Twitter without informing her.
The two are charged with improper use of a communications network after Ms Criado-Perez received abusive tweets following her campaign to feature author Jane Austen on banknotes.
Ms Criado-Perez said she was "upset" she found out the news from Twitter.
She said the CPS had broken a promise.
The CPS had agreed to call her before 1300 GMT on Friday, she said.
Ms Criado-Perez told the Guardian newspaper: "I am upset. We agreed a procedure."
She said she had not heard from the prosecutors until 2045 GMT on Monday, despite the CPS saying it had already written to her.
On Monday, the CPS announced Isabella Sorley, 23, from Newcastle and John Nimmon, 25, from South Shields, were charged with improper use of a communications network.
A third suspect alleged to have sent offensive messages was not prosecuted after the "high threshold for prosecution has not been met", it said.
It would not be in the public interest to prosecute over messages allegedly sent to MP Stella Creasy, and a fifth suspect faces further police investigations before a decision can be made, the CPS added.
Ms Criado-Perez said: "I do not know who has been released and I would have thought that was information I should have had."
Ms Sorley and Mr Nimmon will appear in Westminster Magistrates' court on 7 January, the CPS said.
'Attacks on women'
In July, the Bank of England announced Jane Austen would feature on its £10 note avoiding a long-term absence of women represented on banknotes.
It said the notes would replace Charles Darwin and probably make a debut in 2017.
Ms Criado-Perez said the abusive tweets began the day of the announcement, after she appeared in the media campaigning for women to feature on banknotes.
She went to the police after receiving "about 50 abusive tweets an hour for about 12 hours".
Ms Criado-Perez said she had "stumbled into a nest of men who co-ordinate attacks on women".