Airport expansion plans divide opinion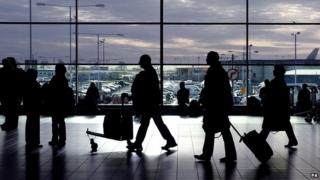 New runways at Heathrow and Gatwick have made it on to a shortlist of options for expansion, but plans to grow Birmingham or build a new airport east of London have been put on hold. How has the news been received?
The business lobby group London First say the city needs extra airport capacity to stay connected to global markets.
Expanding Heathrow is the "most obvious" starting point, says chief executive Baroness Jo Valentine. She says London's main airport lags behind - pointing to Amsterdam's six runways and Paris' four.
"We should have built 10 years ago, we haven't built for 50 or 60 years," she says.
'No plausible alternative'
It's a view shared by the the chief executive of Heathrow.
Heathrow's long-haul connections and contribution to the economy are vital, says Colin Matthews.
"We've got Paris, Amsterdam and Frankfurt, all desperately trying to eat our lunch.
"They want to have the business the UK benefits from today."
But one of the most vocal opponents of Heathrow expansion is the city's mayor Boris Johnson.
Mr Johnson says: "What is being proposed at Heathrow is not some oven-ready, peasy scheme.
"Both the Heathrow options involve concreting over the M25, probably closing it for at least five years, doing major re-alignments.
"Why on earth entrench a huge planning error and expand Heathrow, and consign future generations to misery when we could go for the right option?"
What the Conservative mayor describes as the "right option" is a brand new airport in the Thames Estuary.
That's prompted a strong reaction from the RSPB which describes the mayor's plan for the area as "disastrous".
"It supports many thousands of wintering birds and other wildlife," says head of policy Sue Armstrong-Brown.
"Every time a spotlight is put on the Thames Estuary as a potential site for an airport it is revealed to be both an environmental disaster and economic lunacy."
Sir Howard Davies, who is leading the government's review of the UK's airport expansion options says the Kent option would cost £100bn to build.
"The environmental issues are particularly challenging because there are particular environmental sites where you can only build if you can show there is no plausible alternative," he says.
"That's why we're focusing on a second runway at Gatwick and two options at Heathrow."
Resignation threat
But those options have not got down well with local and environmental campaigners.
Long-standing anti-Heathrow expansion group Hacan has promised 18 months of "intense campaigning" against a new runway at the airport.
Chairman John Stewart says: "The scale of the opposition will be so great that we believe that they are politically undeliverable and should have been dropped at this stage."
And west London Tory MP Zac Goldsmith warns that if his party reverses its position on Heathrow he will resign and force a by-election.
Earlier he accused Sir Howard of "nipping and tucking" his report "on the instructions of government".
Green MEP for south-east England Keith Taylor adds: "We know that any new runways at either airport will increase air pollution, destroy homes and countryside and mean more people's lives are blighted by flight noise."
'The only option'
Meanwhile, Georgia Wrighton, director of the Campaign to Protect Rural England in Sussex, says a second runway at Gatwick and the associated development would "concrete over cherished open countryside".
She adds: "A heady cocktail of increased flights, HGV traffic and cars would erode the tranquillity of rural communities, and the health and quality of life of people living under its shadow."
But, according to the airport's management, expansion of Gatwick is "the only option which can the deliver the right type of capacity for the UK".
Chief executive Stewart Wingate says: "It is the only airport serving all airlines' models, including both low cost and legacy airlines, as well as both transfer passengers and people flying direct."
The local West Sussex County Council says it's pleased Gatwick made the shortlist.
"On balance there are compelling economic arguments for a second runway because of the benefits to everyone in West Sussex," it says in a statement.
"Airport expansion at Gatwick would help many companies grow and expand, as well as creating new opportunities."
Chief Secretary to the Treasury Danny Alexander - the most senior Lib Dem to respond to Sir Howard's recommendations - says the government is under pressure to improve airport capacity
He adds: "We've always opposed airport expansion in the South East for environmental reasons and it's that environmental test that we will apply to his final report."
The commission has not shortlisted proposals for expanding two other major UK airports - at Stansted or Birmingham.
Local Solihull MP Lorely Burt says it's disappointing.
"Birmingham Airport is not up to its full capacity so it does have room to grow.
"We are supposed to be building up the economy of the West Midlands but it doesn't seem to figure in the thoughts of the good and the great who are planning our infrastructure for the future."
The commission recommended looking again at Birmingham in the future, once the impact of a proposed new high-speed rail line were clear.
The airport hails the commission's recognition of it as "an integral piece of the long-term aviation puzzle"
"The commission has also recognised that Birmingham Airport can grow immediately and we will work with the government on the policy recommendations set out in this report in order to deliver this," says chief executive Paul Kehoe.
Labour says it will study Sir Howard's recommendations.
But shadow transport secretary Mary Creagh adds: "It is good to see that the original Heathrow proposal for a third runway, of which we were sceptical, has been taken off the table, and that this work is taking place within the context of our ongoing climate change commitments."