College of Policing review tries to prevent deaths in custody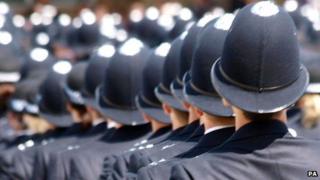 The College of Policing is reviewing its training to try to prevent more people dying in police custody in England and Wales, the BBC has learned.
It will be looking into areas such as how and when people should be restrained and how to deal with those who have mental health problems.
Nearly 1,000 people have died in police custody over the past 20 years.
The Police Federation said dealing with people in custody can be challenging, particularly when they are violent.
That threat needs to be tackled immediately, said the organisation which represents rank-and-file officers.
'Unsuitable force'
The College of Policing told the BBC the Association of Chief Police Officers (Acpo) ordered the review in the summer.
The reopening of the IPCC's investigation has restarted the debate about deaths of black people in custody.
Campaigners believe that black people are sometimes treated unfairly, and that the number of black deaths in custody are disproportionate.
Of the nearly 1,000 people to have died in police custody in England and Wales over the past 20 years, more than 100 were black or from an ethnic minority.
The circumstances surrounding some of the deaths are still unclear.
Last week, the Independent Police Complaints Commission (IPCC) reopened its investigation into the death of Sean Rigg in police custody.
Mr Rigg, who had schizophrenia, died at Brixton police station, south London, in August 2008.
Officers who arrested Mr Rigg for attacking a man in Balham, south London, restrained him for several minutes before taking him to the police station.
Last year the inquest into his death found that officers had used "unsuitable force", and earlier this year a review by the IPCC found that the watchdog should look again at whether police officers should face misconduct proceedings.