Tweets to feminist campaigner Criado-Perez: Two charged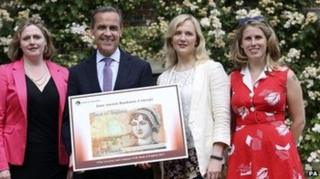 A man and a woman have been charged over tweets sent to the feminist campaigner Caroline Criado-Perez.
Isabella Sorley, 23, from Newcastle and John Nimmon, 25, from South Shields, were charged with improper use of a communications network.
They will appear in court on 7 January, the Crown Prosecution Service said.
Ms Criado-Perez faced abuse after successfully campaigning for a woman to appear on Bank of England banknotes. Author Jane Austen was chosen..
The CPS said that after consultation with the police, it had been asked to "make a charging decision" over five suspects who allegedly sent offensive tweets to Ms Criado-Perez and the MP Stella Creasy.
It said it found there was not enough evidence to prosecute one suspect as the "high threshold for prosecution has not been met".
It added that it was not in the public interest to prosecute the suspect who allegedly sent offensive messages to Ms Creasy, citing the young age and personal circumstances of the suspect.
The fifth suspect faces further police investigations before a decision can be made, the CPS said.
It has written to Ms Criado-Perez to inform her of the charges. But she said on Twitter that the CPS had informed the press "ahead of me".
"About the level of victim-support I've grown to expect," she added.
Twitter backtracks on block
Ms Criado-Perez, from Rutland, who had appeared in the media to campaign for women to feature on banknotes, said the abusive tweets began the day it was announced that author Jane Austen would appear on the newly designed £10 note.
She reported them to the police after receiving "about 50 abusive tweets an hour for about 12 hours" and said she had "stumbled into a nest of men who co-ordinate attacks on women".
She told the BBC she had also tried to contact Twitter's manager of journalism and news, Mark Luckie, but he did not respond.
The form that allows Twitter users to report abuse was not adequate, she went on, adding: "Twitter need to be on the side of the victims."
On Saturday, Twitter reversed the changes it made to how people block other users, less than a day after they were introduced.
The changes - which allowed blocked users to continue to see tweets and interact with accounts that had blocked them - caused an outcry.
"We have decided to revert the change after receiving feedback from many users - we never want to introduce features at the cost of users feeling less safe," Michael Sippey, Twitter's vice-president of product, said in a blogpost.