Ex-offenders 'should be allowed to become magistrates'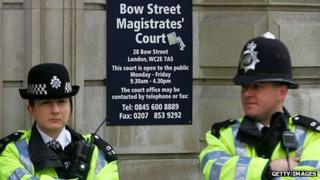 Convicted criminals and recovered drug addicts should be allowed to become magistrates, according to an influential right-wing think tank.
Policy Exchange said reformed characters could bring "first-hand experience" to the role.
It also called for a 10-year limit on serving as a magistrate.
The Ministry of Justice said crimes did not disqualify people from being magistrates but they should be "people of integrity".
There are currently about 23,000 magistrates across 330 courts in England and Wales.
'Assembly-line justice'
Current rules stipulate that those convicted of serious crimes or a series of minor offences would be "unlikely" to be considered for the voluntary roles.
But Max Chambers from Policy Exchange said the system needed opening up "to those with first-hand experience of what addiction and the criminal justice system are really like".
"In today's world, whether you're allowed to become a magistrate has got to be about more than whether you move in the same social circles as other magistrates," he said.
He called for the guidelines to be changed to open up the positions to those who have avoided re-offending for five years and done voluntary work.
"Who better to help turn offenders around and make our streets safer than someone who's been through it, come out the other side and is now making a positive contribution to society?" he asked.
He said such an approach would move from "assembly-line justice to problem-solving justice".
Policy Exchange was set up in 2002 by a group including the senior Conservatives Michael Gove, Nick Boles and Francis Maude.
The Ministry of Justice said: "A criminal conviction does not automatically disqualify someone from being appointed as a magistrate, nor does a previous addiction to drugs or alcohol, but the public has a right to expect that magistrates will be people of integrity and good character.
"For that very important reason, it will remain the case that anyone in whom the public is unlikely to have confidence will not be appointed to the magistracy."