British holiday homes in Andalucía 'face bulldozer risk'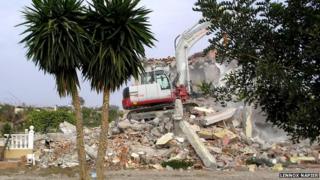 British-owned homes in southern Spain could be at risk of demolition for breaching local planning rules, according to the UK embassy in Madrid.
It estimates there are 4,000 such homes in Andalucía subject to legal disputes.
The Andalucían authorities have so far destroyed three British-owned holiday homes.
The UK Foreign Office said it recognises it as a "substantial problem" and is lobbying the Spanish government over the matter.
It said one British-owned home was destroyed in 2008 and two last year.
One, a hillside villa in Cantoria belonging to John and Jan Brooks, was bulldozed in October.
'Huge social problems'
The retired couple from Taunton, Somerset, had invested £170,000 in what would have been their dream home, said BBC correspondent Tom Burridge.
The local mayor at the time, Pedro Llamas, said he was very sorry but that he only knew the property developer had broken the law "when the police came."
Maura Hillen, who runs Action Almanzora which campaigns on behalf of British people who have lost their homes, said planning laws had been widely ignored during Spain's property boom.
"Everybody turned a blind eye, including the regional government who are now so sanctimoniously imposing these planning regulations retrospectively," she told the BBC.
"Instead of protecting the landscape, it is creating huge social problems."
Another couple, Stephen and Noel Payne, got a licence to build their property 10 years ago but said they were waiting in fear after local planning regulations were changed and they were issued with a demolition order.
"It's there all the time," Mrs Payne said.
"When are we going to get another letter? When are we going to hear we're in court. The main thing in our mind is 'how long have we got?'"
Len and Helen Prior lost their home six years ago. They are now living in their garage, which was deemed permissible by the local authorities.
"This was our home, and we didn't see why should be driven away," Ms Prior said.
Will Middleton, director of British consular services in southern Europe said there were an estimated 800,000 British people living for some or part of the year in Spain.
Among them he said there were around 4,000 properties "in legal dispute".
"For those involved it's absolutely devastating," he added.
A spokesman for the Foreign Office said the UK could not get involved in individual disputes and urged British people affected to go through the "appropriate local courts".
But he added: "We recognise this is a substantial problem and we can bring to the attention of the Spanish authorities the problems British residents are facing."
Juan Ortiz from the provincial government in Almeria, where all three British-owned homes were demolished, said its policy was to make homes legal - not to demolish them.