Ed Miliband details plans to boost house building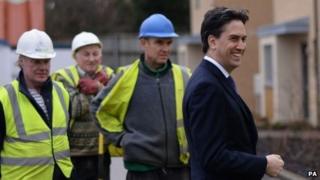 Councils will be allowed to expand beyond their current boundaries to provide new housing if Labour is elected in 2015, Ed Miliband has said.
In a speech in Stevenage, the Labour leader criticised "stick in the mud councils" that block development plans by neighbouring authorities.
And he said developers "hoarding" land that has planning permission for new homes must either "use or lose it".
Labour plans to build 200,000 homes a year in England by 2020.
At their party conference in September, Labour said the housing shortage was "central" to what they call Britain's "cost of living crisis".
'Use or lose'
Speaking on Monday, Mr Miliband said that the profits of the country's four biggest housing developers - Barratt, Berkeley, Persimmon and Taylor Wimpey - were "going through the roof".
"They have soared 557% since this government took office - even though homes have been built at their slowest rate witnessed in peacetime for almost a century.
"But there are large amounts of land - enough to build more than a million homes - earmarked for houses which have not been built."
House builders and other landowners sitting on land that is ready for development will face a clear choice, Mr Miliband said.
"The next Labour government will give councils powers to charge fees or, if necessary, purchase such land, so that developers have an incentive to do what they went into business to do.
"We will back homebuilders. But we will tell land hoarders with sites that have planning permission that they must use it or lose it."
Under Labour's proposals, the Planning Inspectorate would scrutinise different local housing plans, and arbitrate between councils to allocate housing construction based on need.
Mr Miliband suggested the Labour-controlled Stevenage Borough Council was being prevented from ambitious house building plans because of the objections of neighbouring North Hertfordshire Council.
Stevenage, as well as Oxford, Luton and York, have signed up to become the first "right to grow" local authorities under Labour plans, with an immediate potential to build 40,000 new homes.
'Broken market'
Mr Miliband said: "Of course it is right that local communities have a say about where housing goes. But councils cannot be allowed to frustrate continually the efforts of others councils to get homes built.
"So the next Labour government will unblock this planning process and unlock the potential to build tens of thousands of new homes where they are needed."
Former chairman of the BBC Trust, Sir Michael Lyons, is to head a commission looking at the "right to grow scheme" and "use it or lose it powers".
Mr Miliband also accused the government of focusing on schemes, such as Help to Buy, which drive up demand, but not doing enough to improve the supply of new housing.
"The result is a broken market where it now takes ordinary families over 20 years to save enough for a deposit and those renting privately are paying as much as half their income on rent," he said.
But the government said Labour had failed to build anywhere near enough homes during its 13 years in power and rates of house building were now at their highest for seven years.
"Top-down regional strategies and eco-towns failed hard-working families who aspired to own their own home, and built nothing but resentment," housing minister Kris Hopkins said.
He said £2bn had been allocated to more than 350 councils, under the New Homes bonus scheme, to encourage local authorities to bring empty properties back into use and to support conversions.