Transsexual PC's case against Essex Police rejected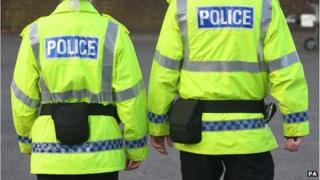 An employment tribunal has rejected claims of harassment and discrimination by a transsexual police officer, the BBC has learned.
PC Emma Chapman complained she had to "out" herself over a police radio system when working for Essex Police.
But the tribunal said her reaction had been "extreme" and she had been "unreasonably prone to take offence".
PC Chapman, 44, was born male and underwent gender reassignment surgery 14 years ago.
BBC home affairs correspondent Danny Shaw said the case brought against Essex Police was thought to be the first of its kind.
PC Chapman underwent gender reassignment while serving as a volunteer officer with Essex Police in 1999.
Four years later she became a full-time constable and now works on the force's response team. It is thought she is the only transgender officer in the force.
'Very distressed'
Legal documents seen earlier this year by the BBC showed her claim centred on three incidents when she had to speak to the police force's control room via her radio handset.
PC Chapman said that on the first occasion, in October 2012, the operator did not believe who she was, saying she had a "male voice".
She then replied that she was a transsexual.
PC Chapman said she was left feeling "very distressed" that she had been forced to "out" herself over a radio channel that was listened to by hundreds of officers and staff.
She reported what had happened, but claimed Essex Police failed to carry out a full investigation and interview the control room operator.
Two further incidents occurred in June 2013 when the officer was again challenged by control room staff who questioned her identity, according to legal papers.
The officer said the incidents created an "intimidating, hostile, degrading, humiliating or offensive environment" for her to work in.
Force praised
She sought compensation for injury to her feelings and a declaration of discrimination, and wanted the force to improve the way it dealt with transgender issues.
However, the tribunal said she had been "over sensitive" - probably because she was going through a stressful time in her personal life.
Essex Police was praised by the tribunal for introducing transgender awareness training six months ago.
The judgement was delivered last month but has only just been made public.
The BBC understands that PC Chapman does not wish to appeal against the decision.