Most UK EC 135 air ambulances back in air after grounding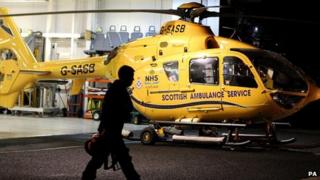 Most of the UK air ambulances suspended after a police helicopter crash in Glasgow have returned to flying.
Operator Bond Air Services grounded its 22 EC 135s - the model that came down into a pub on 29 November, killing 10 people - for checks after a fuel indication fault was found last week.
Work on some of the Eurocopter helicopters, which are among the UK's 36 air ambulances, is finishing.
The Glasgow air ambulance was among those to resume flights this weekend.
It was one of the services affected after the fault was discovered on a North West Air Ambulance helicopter on 10 December.
Bond then suspended its EC 135 flights to allow "precautionary testing".
As well as air ambulance services, the company operates the helicopter for several other organisations in Britain.
Some of its EC 135s - including the Scottish Ambulance Service's Inverness-based helicopter - were returned to service on 12 December, but Bond said it had "identified a number of aircraft with the anomaly".
"Having worked closely with the manufacturer, Eurocopter, to identify the immediate cause, we began a process of jointly testing the aircraft and are now sourcing and replacing the affected components.
"This work is expected to be completed by Sunday," it said.
'Voluntary action'
The Dorset and Somerset air ambulance returned to service on Sunday morning, while Midlands Air Ambulance helicopters based in Worcestershire and Shropshire and the Thames Valley and Chiltern air ambulance were also among those to be cleared to begin operations again.
North West Ambulance Service said two of its three EC 135s were to have parts replaced and it hoped a full service would resume on Monday.
The Police Scotland helicopter operated by Bond came down on the Clutha bar, killing its three crew, along with seven people inside the pub.
An initial report from the Air Accidents Investigation Branch (AAIB) said it had found "no evidence of major mechanical disruption of either engine".
It is standard practice after an incident for an affected operator to suspend its fleet and Eurocopter made no recommendation for action on the other EC 135 in the UK or across the world.
The Civil Aviation Authority said Bond's decision was a "voluntary action by the operator".
The UK's National Police Air Service said it had not suspended any of its aircraft but decided to increase fuel levels and the minimum level of fuel on its EC 135s "in light of the technical issue identified by Bond Air Services".
A spokesperson for West Midlands service said there were no major reported incidents while its helicopters were grounded.
"As a service we still had access to air ambulances operated by Warwickshire and Northampton Air Ambulance and Derbyshire, Leicestershire and Rutland Air Ambulance so there was never any worries about patients being put at risk."