Nuclear weapons site police under investigation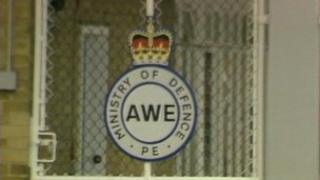 A number of police officers working for the Ministry of Defence (MoD) are being investigated after claims that they failed to carry out routine inspections of a nuclear weapons factory.
Seven officers at the Atomic Weapons Establishment (AWE) in Burghfield, Berkshire, have resigned without facing disciplinary charges, the MoD said.
The MoD said there had been no threat to the security of "nuclear assets".
A spokesman denied reports that had staff were accused of sleeping on duty.
Disciplinary action
"We can confirm a number of officers are under investigation for failing to complete their full patrols at the Atomic Weapons Establishment," the spokesman said.
"We can be clear that at no point was the security of the site or its nuclear assets compromised."
The MoD said that disciplinary action had been "immediately initiated" due to the seriousness of nuclear security.
Where appropriate, officers had been removed from the site to other duties pending the conclusion of the misconduct investigation.
The spokesman also said that security at AWE sites was "constantly reviewed", and MoD police will implement any improvements as necessary, pending the outcome of the investigation.
AWE Burghfield, the site of a former munitions factory, is responsible for the final assembly and maintenance of warheads in service - as well as their decommissioning.