UK-Iran 'contact before Briton's killing' questioned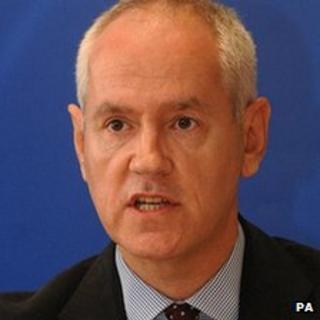 A British businessman is likely to have killed by the Iranian authorities after the UK government supplied it with information, a former director of public prosecutions has said.
Lord Macdonald questioned why the Home Office approved the transfer of files from Abbas Yazdi's computer to Tehran.
Iran-born Mr Yazdi, last seen on 25 June, was once investigated by the Serious Fraud Office over oil bribes.
The Home Office said it could not comment on the case for legal reasons.
Mr Yazdi, who has held dual Iranian and British citizenship since 1998, had been living in Dubai.
He disappeared there hours after giving evidence via video-link to a tribunal in the Hague and is believed to have been abducted.
The hearing was considering a dispute involving the National Iranian Oil Company, owned by the Tehran government - and references to the information supplied by the SFO are reported to have emerged during the case.
The dispute includes a legal action against for more than £3bn for trying to scrap a deal with a firm in the United Arab Emirates.
'Extra-judicial executions'
Speaking to BBC reporter Nick Beake, Lord Macdonald said he believed the businessman was probably dead and British co-operation with Iran could be to blame.
Lord Macdonald claims that as recently as March this year the SFO was passing files from Mr Yazdi's computer to Iran at the request of the Home Office.
"I think it is now incumbent on the Home Office to explain why they thought it was right to supply confidential material about a British citizen to an Iranian state agency that has historically been involved in summary extra-judicial executions," he said.
It is thought Mr Yazdi was first investigated by the SFO following inquiries by the Norwegian authorities in 2003.
According to a report in the Times newspaper, Mr Yazdi's wife Atena was told at a meeting with Foreign Office and police officials last week that it was likely her husband had been killed.
But she is quoted as saying she believes he is still alive and also suggested the UK government action contributed to his disappearance.
Iran, says the Times, has denied involvement in an abduction and says it is still searching for Mr Yazdi.
The Metropolitan Police has confirmed that counter-terrorism officers have also been investigating the case.
The Foreign Office says it has raised its concerns with Iran and is providing consular assistance to his family.
"We have asked the Iranians for any information they have about Mr Yazdi's whereabouts," a spokeswoman said.
She said the Foreign Office was also in contact with the authorities in Dubai.
The UK provides mutual legal assistance to other countries under its international obligations but both the Home Office and Serious Fraud Office said as a matter of policy they do not comment on the existence of such requests.