Zac Goldsmith challenges leaders over Heathrow expansion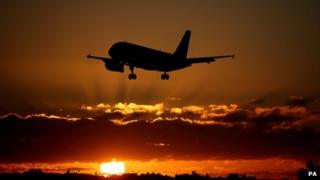 The main party leaders should "come clean" about the expansion of Heathrow Airport, a Conservative MP has said.
Zac Goldsmith said it would be "catastrophic" for Prime Minister David Cameron if he reversed his earlier position and supported a third runway.
Mr Goldsmith also questioned the independence of an interim report by the Airports Commission on airport expansion to be published next week.
The Conservative Party insisted the report was independent.
Its final report is due to be published after the next general election in 2015.
Mr Goldsmith, whose Richmond Park and North Kingston constituency in south-west London would be affected by Heathrow expansion, told BBC Newsnight: "This review was always supposed to be an independent, arm's-length review. It seems very clear now that it's nothing of the sort.
"It looks very much like [Chancellor] George Osborne in particular has been knocking it about in the last few days so that what finally emerges on Tuesday will not just be about Heathrow expansion.
"We will have a few other synthetic options thrown in as well just to enable the government to maintain that ambiguity, cynically I believe, until after the next election."
'Accepting expansion'
The head of the Airports Commission, Sir Howard Davies, has said the "provisional conclusion" is that extra runway capacity would be needed in the South East in the coming decades.
The expansion of Heathrow has been a divisive issue, with Conservative London Mayor Boris Johnson proposing a new airport hub to the east of the capital and others backing an expansion of either Stansted in Essex or Gatwick in West Sussex.
Labour had approved an extra, third runway at Heathrow, but the plan was abandoned by the coalition government when it took power in May 2010.
Mr Goldsmith, who has been a leading opponent of the expansion, has promised to trigger a by-election if his party's position changed and would stand down as a Conservative if the 2015 manifesto supported Heathrow expansion.
"I think, because of what we know was in the original first draft of this report, irrespective of what is produced on Tuesday, we know that if the parties accept this report in general they are accepting Heathrow expansion," he said.
"I think they need to come clean about that."
'Never forgiven'
He continued: "David Cameron himself has to really think very carefully about this.
"Politically a U-turn on this issue would be catastrophic for him. You have to remember it wasn't just a few party speeches, David Cameron went to every single constituency affected and stood up and said 'no ifs, no buts, there will be no Heathrow expansion'.
Mr Goldsmith said a reversal of positions by the prime minister on the issue "would be an off-the-scale betrayal and he will never be forgiven in west London".
The Conservative Party made no comment on Mr Goldsmith's remarks.
Meanwhile, Mr Johnson has accused David Cameron of setting up the commission "to provide cover for a U-turn on Heathrow".
Expansion of Heathrow "would be wrong for London and wrong for the country", the London mayor told the Daily Telegraph.
Earlier this week, Slough, Ealing and Hounslow councils said the closing of Heathrow to open a new hub airport in the capital would be "devastating", with up to 70,000 local jobs put at risk.