Norfolk's RAF Marham to lose squadron when Eurofighters arrive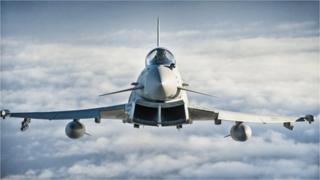 One of the RAF's oldest squadrons, now based in Norfolk, is to be transferred to Scotland.
Number II (Army Co-operation) Squadron, formed in 1912 and based at RAF Marham, is currently preparing for duty in Afghanistan flying its Tornado jets.
When the unit returns, it will train on Eurofighter Typhoons and transfer to a new base at RAF Lossiemouth in Moray.
The move was announced by Mark Francois, minister of state for the armed forces.
He said the change was part of the planned realignment of the RAF's Tornado Force.
All Tornado GR4s will be taken out of service by 2019 and replaced by Eurofighter Typhoon and F35B Lightning II fighters.
RAF Marham will become a base for F35B Lightning II fighter squadrons.
Details of numbers and which squadrons will be based in Norfolk have not yet been clarified, an RAF spokesman said.