Greenpeace's Arctic 30 'not free to leave Russia'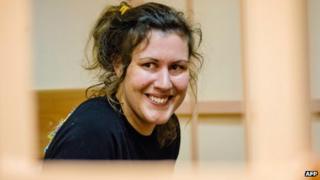 Greenpeace fears its Arctic crew will be unable to leave Russia after one of the group was denied an exit visa.
The 30-strong crew of the Arctic Sunrise are currently in St Petersburg, having been bailed last month on charges of hooliganism.
Twenty-six of the crew are foreign nationals and had hoped to be able to leave the country until their presence was required at trial.
But a letter to Dutch activist Anne Mie Jensen has dashed those hopes.
The letter from the federal Investigative Committee told Ms Jensen she is "not free to leave the country", Greenpeace said in a statement.
"Lawyers for Greenpeace expect all of the non-Russian defendants to be treated in the same way by the authorities, meaning they would now be forced to stay in St Petersburg for Christmas and possibly well beyond."
'Seems quite vindictive'
British video journalist Kieron Bryan, originally from Shebbear in Devon, said he was "disappointed" and "desperate to get home for Christmas".
"As far as we've been told, and going by what the Investigative Committee has said, we're not going to be able to return home during the bail period," he told BBC Radio Devon.
"They're going against an international law... They're doing it on a bureaucratic technicality, which is incredibly frustrating and just seems quite vindictive and I hope common sense will prevail."
The family of another Briton bailed in Russia, Iain Rogers, said the news was "very upsetting".
"I am heartbroken," said his mother, Sue Turner, from south-west England. "I was hoping to have my son home for Christmas."
The crew of Greenpeace's Arctic Sunrise, hailing from 16 countries, were arrested by the Russian authorities on 18 September following a protest at an Arctic offshore oil rig.
They originally faced both piracy and hooliganism charges, but the piracy charges were dropped.
They spent two months in prison, in Murmansk and St Petersburg, before being released suddenly on bail.
Senior Russian officials had indicated that the group might be able to leave Russia but said they would need authorisation for exit visas.
There has been no comment from the powerful Investigative Committee, which is Russia's main federal investigating authority.