Hacking trial: 'Do his phone' order 'part of leak probe'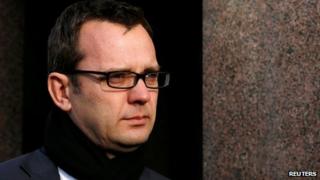 Former News of the World editor Andy Coulson was trying to identify who was leaking information at the newspaper when he used the phrase "do his phone" in an email, the Old Bailey has heard.
Mr Coulson, who denies conspiring to hack phones, is accused of ordering TV celebrity Calum Best be targeted.
But his lawyer said he had wanted an employee's phone record checked.
The judge told the jury to "ignore" an MP's Christmas card featuring a photograph of defendant Rebekah Brooks.
Mr Justice Saunders showed them a picture of the card sent by former chief whip Nick Brown to his parliamentary colleagues, which has been published online.
The judge said the jury should "simply ignore things like that" saying coverage about it on social media was "deeply prejudicial to Mrs Brooks".
'Tipped off'
The court was told Mr Coulson suspected a reporter was in secret contact with Mr Best about a NoW story.
The jury has heard that in May 2006 model Lorna Hogan was claiming to be having Mr Best's baby and sold the now defunct tabloid a story about him.
During cross-examination of Det Sgt John Massey, Timothy Langdale QC, said: "Andy Coulson's case was that 'do his phone' was not a request or instruction to hack Calum Best's phone.
"It referred to checking on the billing of another News of the World phone due to a suspected leak."
He said Mr Coulson was giving the instruction to search call data in an effort to discover if there had been a leak from a News of the World staffer.
Mr Best, son of late football George Best, had been "bragging" about having "close mates inside News of the World", a journalist had told Mr Coulson in an email.
The jury heard the email was sent after the newspaper took a call from Ms Hogan complaining that Mr Best had contacted her ahead of publication of the story.
The model was said to have claimed Mr Best "must have been alerted from within News of the World and that she had a similar text before our other story on pregnancy. She believes he is being tipped off in advance."
Nine days earlier, Stuart Kuttner, then managing editor of the NoW, was copied into an email containing a list of 799 "unbilled calls from Rav Singh", the jury heard.
Records given to the jury also showed private investigator Glenn Mulcaire, who has pleaded guilty to phone hacking, had targeted reporter Mr Singh's mobile on four occasions on one day two months before that.
Mr Coulson, 45, from Charing, Kent, Mr Kuttner, 73, from Woodford Green, Essex, and Mrs Brooks, 45, from Churchill, Oxfordshire, all deny conspiring to hack phones.
Mr Coulson and Mrs Brooks also deny separate charges of conspiracy to commit misconduct in public office.