Ministers hail gang violence work as report issued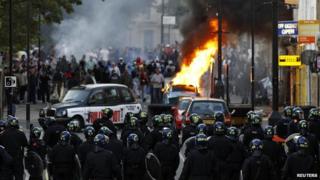 The government has hailed progress in tackling gang crime in English cities.
Home Secretary Theresa May said a programme set-up in the wake of the riots in England in 2011 providing £10m funding in 33 areas was working.
A Home Office report on the plan noted falls in the number of youths wounded with knives and attempted murders last year but said this could not be "directly attributed" to the programme.
Campaigners and former gang members said more work was needed.
The Ending Gang and Youth Violence initiative aims to offer support rather than "top-down direction" in the areas identified by the Home Office as facing the "biggest challenges in relation to youth violence and gangs".
Sense of belonging
Of the areas covered, 20 are in Greater London, three in Greater Manchester, three in the West Midlands and two in Merseyside. The others are Leeds, Bradford, Sheffield, Derby and Nottingham.
The report said in 2012-13, the number of knife-related wounding offences involving 10 to 19-year-olds in programme areas fell by about 25% - from 589 to 439 offences - compared with 2011-12.
However, across the 29 areas originally covered by the programme, the number of homicides rose by one to 15 in 2012-13, while the number of attempted murders fell by 15 to 18.
The report notes it "was not designed to evaluate the impact of the Ending Gang and Youth Violence programme on local crime levels".
But it lists achievements over the last 12 months including:
Improving the "way in which violent young people are managed in custody and after release"
The introduction of "dedicated gangs prosecutors" in London
Gang advisers "embedded" in some job centres - with more than 600 young people helped now in employment, education or training
Helping to organise a range of local projects ranging from a mental health scheme in Birmingham to "street doctors" - where volunteer medical students in Sheffield teach young people first aid
Home Office minister Norman Baker told BBC Radio 5 live: "We're doing some of the right things that are helping. We're not going to say we're responsible for everything going right."
But Shaun Bailey, a former adviser to the Conservatives on youth and race issues, told BBC News: "If you are close to the gang situation, then violence hasn't subsided. It's probably worse."
And Sheldon Thomas, a former gang member and founder of the charity Gangsline, said: "The tension amongst gang members has never changed in the last seven to eight years."
He said "bureaucrats and public sector workers" were driven by statistics and targets.
Charlie Alcock, who heads the charity MAC-UK, suggested the solution had to be small, affordable changes.
"Changes like taking mental health workers out of the clinic and onto the streets, wrapping mental health interventions around the practical things that matter to young people - job seeking, housing and benefits."
Patrick Regan from the London-based youth charity XLP said "things are still really, really tough" and young people were wearing stab-proof vests.
He pointed to a report suggesting 16,500 young people were at risk of sexual exploitation by gangs.
The report is the second annual update to the Ending Gang and Youth Violence report published in November 2011.
The home secretary said a crucial part of the programme's work was offering gang members "viable alternatives to a self-destructive and violent way of life".
Mrs May said "everyone who participated in the review felt that they had made positive changes".
It has led to "more effective leadership and a greater sense of strategic direction," she said.