Firefighters walk-out in latest pensions strike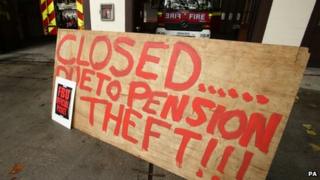 Firefighters in England and Wales have staged a four-hour strike as part of an ongoing dispute over pensions.
Fire Brigades Union (FBU) members walked out at 18:00 GMT and will do the same on Saturday, with the threat of more strikes early next year.
Ministers plan to raise firefighters' retirement age from 55 to 60 and increase their pension contributions.
The government has said pensions remain "generous", but the FBU said it could not let ministers' "hypocrisy" stand.
Firefighters have already held four strikes in recent months over the changes, which the FBU said could lead to older staff being sacked or having their pensions reduced.
'Ludicrous proposals'
FBU general secretary Matt Wrack said: "It's now been almost two months since the government has been willing to meet us for negotiations despite several invitations from us.
"Until they do and until they start to actually resolve the dispute, we'll keep up the pressure for the sake of public safety and our members' pensions."
He said in light of plans to raise MPs' salaries by 11%, anger at the government's "unworkable, unaffordable and unfair" proposals would be "even greater".
"No firefighter wants to strike, but we cannot allow the government's ludicrous proposals, and outright hypocrisy, to stand," he said.
London Fire Brigade, which deployed 27 fire engines to deal with emergencies during the strike, urged party-goers not to try cooking after a night out.
Commissioner Ron Dobson said: "If you're out drinking on Friday or Saturday, it's much safer to grab a kebab or some chips than trying to cook under the influence."
Fire service minister Brandon Lewis has said the strikes "contradict" the FBU's claim that it wants to resolve the dispute through negotiation, and "further damages the good reputation of firefighters".
"Firefighters will still get one of the most generous public pension schemes," he said.
In a letter to Mr Wrack last month, Mr Lewis said improving the terms offered to firefighters "would be unfair to taxpayers and other public sector workforces".