Airports 'normal' after knock-on fog delays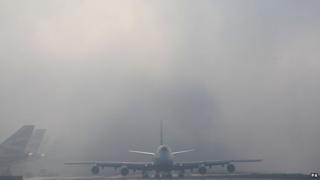 Flight schedules have returned to normal after Wednesday's fog caused cancellations and delays earlier.
Knock-on disruption led to the grounding of 45 flights in and out of Heathrow on Thursday morning.
There were also cancellations at London City and delays at Gatwick in a second day of disruption in south-east England.
One passenger at London City said she had been delayed three hours and that the airport was "totally jammed".
Bad weather in Europe and disruption to flight schedules on Wednesday were behind the delays, the airports said.
"There's been no cancellations from fog today, but there could be some from the disruption yesterday," a Heathrow spokeswoman said earlier.
'Totally jammed'
At London City, which on Wednesday morning faced cancellations or delays to every flight, a spokeswoman said: "We're pretty much back to normal. If there are any delays they've been reduced to a minimum."
Alexis Erskine, who was due to fly from London City to Milan said her flight had been delayed three hours.
Around 30 London City flights - arrivals and departures - were either late or cancelled.
European air traffic managers Eurocontrol said the fog had also affected Gatwick.
A spokeswoman for the airport said it had not cancelled any flights but there were some minor, 15-20 minute delays earlier.
Both Stansted and Luton airports said they were unaffected.
But at Heathrow, BBC reporter Nick Beake explained why the thick fog on Wednesday was still causing problems.
"Lots of planes didn't take off, so they find themselves in the wrong area," he said.
As Heathrow runs at 99% capacity, the airport has little room for manoeuvre when air traffic controllers ask for more time between planes.
Heathrow flights affected included those to Lisbon, Stockholm and Vienna.
The Met Office said visibility was very poor thanks to an early mist and fog across London and south-east England, but that it was due to gradually lift during the morning.