Iranian envoy to make first UK visit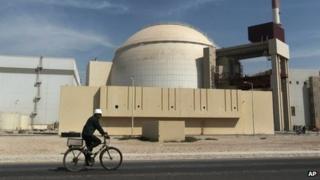 Iran's envoy to the UK is to make his first visit to London this week, the UK's foreign secretary has announced.
Hassan Habibollahzadeh, who will arrive on Thursday, will visit the Foreign Office, William Hague said.
It comes after the visit of Mr Habibollahzadeh's counterpart - Ajay Sharma - to Iran last week.
In a tweet, Mr Hague said relations were improving on a "reciprocal basis". The visits follow a temporary deal on Iran's nuclear programme.
Last month, Iran agreed to curb some of its nuclear activities in return for £4.3bn in sanctions relief, after days of talks in Geneva,
Iran agreed to give better access to inspectors and halt some of its work on uranium enrichment for a six-month period.
The Foreign Office said Mr Habibollahzadeh would meet officials there on Friday.
Diplomats expelled
The UK shut down its Tehran embassy in 2011 after it was stormed in a protest over British nuclear sanctions.
Diplomatic staff were withdrawn from Iran and Iranian diplomats were expelled from London in the wake of the incident.
Mr Sharma tweeted that he was looking forward "to meeting my Iranian counterpart Mr Habibollahzadeh in London this wk to continue step-by-step improvements in #UK-#Iran relations".
Speaking after the deal on Iran's nuclear programme, Mr Hague told BBC News some countries had "very legitimate concerns about Iran's nuclear programme and it's not surprising that people will be sceptical about any agreement".
"After all, Iran also has a history of not revealing the truth about its nuclear programme to the rest of the world.
"But this is the first time that Iran has entered into an agreement with other nations, with the international community, about what to do about its nuclear programme."
Announcing Mr Sharma's appointment as non-resident charge d'affaires in October - before the nuclear deal - Mr Hague said the recently-elected government of President Hassan Rouhani had "presented themselves in a much more positive light than recent governments".
A non-resident charge d'affaires is a diplomatic post one level below ambassador.