Comic Relief to do 'full review' of investment policy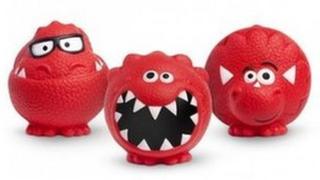 Comic Relief will carry out a "full review" after claims millions of pounds were invested in funds with shares in tobacco, alcohol and arms firms.
The BBC's Panorama learned that some investments appeared to contradict several of the charity's core aims.
Comic Relief chief executive Kevin Cahill admitted "a small percentage" of funds had been invested in such businesses through "managed funds".
But he said: "We listen to the public and we will do the right thing."
'Room for doubt'
Asked about tobacco and arms firms, Mr Cahill said the charity was aware that money was going in "managed funds" but not being invested directly.
He told BBC Radio 4's World at One: "We're aware that a small percentage within those funds would be in some of the areas that you've quoted. There's no more than 5% of our funds in any of those particular areas."
Mr Cahill said Comic Relief and other charities "should probably seek more clarity" from the Charity Commission about what the specific guidance was "because there seems to be some room for doubt".
He said: "Our trustees were acting in good faith in doing what they were doing.
"It's very good to hear that, in fact, the potential exists within ethical funds to match the return because Comic Relief would clearly choose to be in those if the return was equal or better to where we currently are so it's a no brainer for us to be in those funds."
Mr Cahill said: "The trustees, I think, believe that the decisions they have made have delivered the greatest benefits to our beneficiaries."
He said the charity had "never had a blemish on its reputation in its entire 25-year history", but would "do a full review" of its investment policy.
Stock market
Comic Relief has raised nearly £1bn for worthwhile causes in the UK and abroad. It pays out the money it receives to other charities, sometimes over several years. That means Comic Relief holds tens of millions of pounds at any one time.
The charity uses a number of managed funds that invest the money on the charity's behalf, including in the stock market.
Panorama learned that the investments involved in the programme amounted to millions of pounds between 2007 and 2009
Despite its mission statement claiming it is committed to helping "people affected by conflict", in 2009 the charity had £630,000 invested in shares in weapons firm BAE Systems.
Comic Relief also had more than £300,000 invested in shares in the alcohol industry despite its mission statement saying it is "working to reduce alcohol misuse and minimise alcohol related harm".
The majority was invested in Diageo, which manufactures dozens of alcoholic drinks.
Comic Relief also appeals for money to fight tuberculosis and has given over £300,000 to a charity called Target Tuberculosis.
Target TB believes that smoking may be responsible for over 20% of TB cases worldwide.
While raising funds in 2009, nearly £3m of Comic Relief money was invested in shares in tobacco companies.
Comic Relief said its approach was within regulatory guidelines.
The charity said it used its funds to "deliver the greatest benefits to the most vulnerable people".
Panorama also saw evidence to suggest that Save the Children censored its criticism of the energy industry to avoid upsetting potential and existing corporate partners.
Save the Children said its campaigns were unaffected by any partnerships.