Extradited Briton Babar Ahmad admits terrorism offences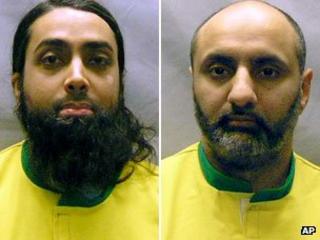 A British man who spent eight years fighting extradition to the US has pleaded guilty to terrorism charges.
Babar Ahmad, 39, from south London, admitted conspiracy and providing material to support to terrorism and faces up to 25 years in jail.
He admitted the offences in a plea agreement hearing in a federal court hearing in New Haven, Connecticut.
A second British man, Syed Talha Ahsan, admitted aiding terrorists by helping Ahmad. He faces up to 15 years in jail.
Both men were extradited to the US in October last year. Ahmad's eight-year battle against extradition was a record for a British citizen and he had thousands of supporters.
Ahmad appeared in the New Haven District Court wearing an orange prison jumpsuit. He did not change two separate pleas of not guilty that he had previously entered to charges of conspiracy to kill and money laundering.
District Judge Janet Hall said she would review Ahmad's admissions before sentencing on 4 March 2014. The plea agreement means that Ahmad faces a reduced sentence - although the prosecution is still seeking 25 years.
US authorities say that at the heart of the case against both of the men was a website and terrorism support cell network that Ahmad oversaw in London.
In the plea agreement, released by the court, Ahmad states that "he solicited and conspired to provide funds [and] personnel for the Taliban regime in Afghanistan" and that he and others "recruited men to travel to Afghanistan for mujahedeen training and sought out gas masks to send abroad."
Deirdre M Daly, acting United States Attorney for the District of Connecticut, said: "They acknowledged that they solicited funds, recruited personnel and provided additional support for acts of terror, including efforts based out of the United States and solicitations for support that were specifically targeted at US residents.
"In doing so, they also admitted that they knew that their efforts could result in the maiming and murder of individuals, including US citizens.
"This prosecution is a testament to the resolve of our prosecution team and our federal law enforcement partners... as well as our counterparts in the UK who have provided crucial assistance to this lengthy international investigation."
English website
Ahmad launched Azzam publications in the late 1990s as probably the first website promoting jihadist thought in English. It went on to play a pivotal role in propagating the political ideology at a critical point in its development and growth in the West.
The original site was shut down within weeks of 9/11 - but much of its content returned a short time later on a new or related website.
Sajid Badat, a British man who renounced extremism after plotting to blow up a plane, told investigators that he had first been radicalised by Ahmad.
The ringleader of the 7 July London bombers had copies of some of Azzam's texts on martyrdom - and his will was partly a copy of a document first published on the website.
Ahmad and Ahsan, who was arrested on an extradition warrant in 2006, tried to avoid extradition on the basis that the website's activities were conducted in the UK, where neither man had been charged or prosecuted for terrorism offences.
But although part of the US case against the men was based on investigations by the Metropolitan Police, the website was technically based in the US.
Ahmad's campaign to stay in the UK led to more than 100,000 people signing an official government e-petition in an attempt to get a debate in Parliament.
Shortly before he lost his extradition battle, BBC News interviewed him in prison. During that interview, Ahmad denied supporting al-Qaeda led terrorist attacks in the West, such as 9/11 and 7/7.