Abu Qatada pleads not guilty to terror charges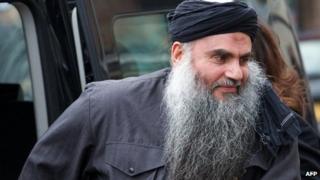 Radical cleric Abu Qatada has pleaded not guilty to terrorism charges at a court in Jordan.
The Palestinian-Jordanian was convicted in his absence of involvement in bombings in 1998 and a foiled terrorist plot in 2000 but is now being retried.
His eight-year legal battle to stay in the UK ended in July.
He told the court Jordan had broken an agreement with the UK that he would be granted a fair trial because one of the three judges was a military appointee.
"The court has betrayed the conditions on which I came here," he said.
"I demand my rights - I don't recognise this court."
'Groundbreaking treaty'
When Abu Qatada was still fighting deportation from the UK, the Jordanians assured ministers his case would only be heard by civilian judges.
Senior High Court judges heard that Jordan told London three times that Abu Qatada would be tried in the country's controversial State Security Court - but the judges would be independent and civilian, rather than military.
One of those assurances was a formal letter to Foreign Secretary William Hague.
These guarantees on a fair trial, along with a treaty that banned the use of evidence extracted by torture, paved the way for the cleric's deportation.
Later in the hearing, the public prosecutor said the choice of a military judge was justified because of the nature of the alleged crimes.
Members of Abu Qatada's family, including his brother and children, were in court.
Although Abu Qatada was previously sentenced to life imprisonment in his absence, under Jordanian law he has the right to a retrial with him present in the dock.
He is accused of plotting to carry out attacks in 1998 and 2000 and is alleged to have given spiritual advice and encouragement in both.
In the 2000 case, he is also said to have given financial support in the form of a computer.
Desert prison
Abu Qatada was granted asylum in the UK in 1994 but, as his views hardened, the security services came to view him as a threat.
Would-be mid-Atlantic shoe bomber Richard Reid and Zacarias Moussaoui, both jailed for involvement in terrorism, are believed to have sought religious advice from him.
The cleric's sermons were also found in a flat in Hamburg, Germany, which was used by some of those involved in 9/11.
He vowed to fight the UK's 2005 decision to deport him to Jordan to face retrial over bomb plot allegations - setting in motion an eight-year legal battle.
Attempts to deport him were repeatedly prevented by judges concerned about his human rights.
The dispute continued until May this year, when he accepted that his right to a fair trial in Jordan was protected by a new treaty with the UK.
Speaking about his departure, Home Secretary Theresa May said the UK government had been "vindicated" after its long fight to deport him.
Since arriving in Jordan, Abu Qatada has been held in a high-security prison in a remote desert area.
He could face 15 years in prison if convicted, reports from news AFP suggested.
The case was adjourned until 24 December.