Jurors could face new Contempt of Court crime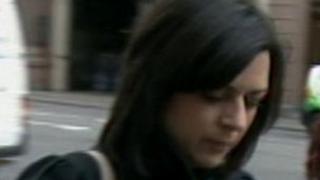 Jurors who deliberately research a case online should face criminal charges, the government's law reform body for England and Wales says.
Currently judges set out what jurors in individual cases must not do and those breaking the rules can be jailed by the civil courts for contempt of court.
The Law Commission says this leads to inconsistency and confusion - it wants Parliament to set out standard rules for jurors and make breaches a crime.
Ministers will now discuss the plans.
Professor David Ormerod, the law commissioner heading the contempt project, said: "Members of the jury would know the rules, the wrongdoing would be prosecuted in the same way as other crimes, and jurors accused of contempt would benefit from the normal protections of the criminal trial process."
School lessons
Other recommendations made in the commission's report include:
Giving judges statutory powers to remove internet-enabled devices from jurors
Teaching school children about the role and importance of jury service
Amending the current oath taken by jurors to include an agreement to base the verdict only on evidence presented in court and not to seek or disclose evidence about the case
The commission also says jurors should be clearly protected to allow them to speak out if they have suspicions of wrongdoing that only emerge after a case has finished.
There is also a proposal to create an exception to the ban on asking jurors about their deliberations so approved researchers can investigate how juries reach decisions.
The Law Commission would also like to see Contempt of Court laws changed to avoid pursuing the media for material published before a trial.
This would include news reports detailing allegations about people who had not been arrested or charged at the time of publication.
Rape allegation
Responding to the report, Attorney General Dominic Grieve said: "Juror contempt is a serious risk to justice but people are often not aware of the consequences."
He hoped the proposal to make it an offence for jurors to search for information about their case online would reduce the need for future prosecutions, he added.
The report comes after a number of jurors have faced proceedings for contempt.
In January last year, university lecturer Dr Theodora Dallas was jailed for six months after telling fellow jurors that she had discovered the defendant in their case had once been accused of rape.
Last week, the 36-year-old from Luton - who claimed the judge's instructions had not been clear - said she would take her case to the European Court of Human Rights in Strasbourg.