UK flights returning to normal after software glitch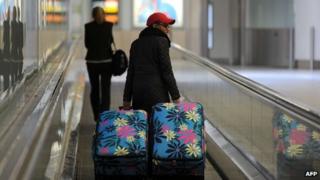 Normal service is being resumed at the UK's major airports after cancellations and delays during the weekend.
Thousands of passengers had travel plans disrupted when a software failure struck the air traffic control centre at Swanwick early on Saturday morning.
The glitch was fixed by 19:30 GMT.
On Sunday, Heathrow - the worst affected airport - reported 18 cancellations, while Gatwick and Stansted said they had been operating flights smoothly all day.
The breakdown occurred when the National Air Traffic Service (Nats) computer system was making the switchover from the quieter night time mode to the busier daytime setup.
It was unable to handle the normal volume of flights for a Saturday and said it dealt with 20% fewer than it would have expected.
Nats stressed that safety was never at risk.
'No compensation'
A spokeswoman for Heathrow Airport, which had cancelled 228 flights by 18:55 GMT on Saturday, said the few cancellations on Sunday were "mostly due to crew displacement".
"Apart from that we are pretty much running as normal," she added.
A Stansted Airport spokesman said there had been no problems on Sunday, while a Gatwick Airport spokeswoman said: "We've been back to business as usual from this morning."
Airports affected on Saturday also included Manchester, Birmingham, Leeds Bradford, Doncaster Robin Hood, Belfast International, Dublin and Newcastle.
Overnight, airports were advising passengers to check their flight's status before travelling.
By 16:00 GMT on Saturday, Nats said it had handled 2,576 flights compared with 2,905 at the same time last week.
Ryanair said 300 of its flights had been delayed on Saturday, with 12 cancelled.
It criticised Nats in a statement, saying: "While we acknowledge problems can occur, where is the contingency?"
Delays at Stansted on Saturday averaged two to four hours, a spokeswoman for the airport said.
Eurocontrol - which manages European air safety - said around 1,300 flights, or 8% of all air traffic on the continent, had been "severely delayed".
The Association of British Travel Agents said that frustrated passengers would not be entitled to compensation.
"In a situation like this it's not actually deemed to be the airlines' fault," head of communications Victoria Bacon told BBC News.
Nats said in a statement on Saturday evening: "The reduction in capacity has had a disproportionate effect on southern England because it is extremely complex and busy airspace and we sincerely regret inconvenience to our airline customers and their passengers."
The communications failure was a totally different issue to a software problem that saw flights in southern England delayed due to "technical problems" in July, according to the BBC's transport correspondent Richard Westcott.