Thanksgiving service for Mandela at St-Martin-in the Fields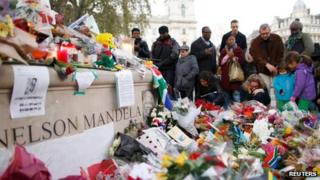 A service of thanksgiving for the life of ex-South African president Nelson Mandela has been held in London.
The Archbishop of Canterbury made an address at St Martin-in-the-Fields, a church which had strong links to the anti-apartheid movement.
A national day of prayer and reflection is also being held across South Africa.
The Prince of Wales will represent the Queen at Mr Mandela's funeral next Sunday, a spokesman for Buckingham Palace has confirmed.
The church of St Martin-in-the-Fields stands a few feet away from the South Africa High Commission in Trafalgar Square, where a book of condolence has been opened and floral tributes continue to be placed outside.
Both the church and the High Commission were once the scene of freedom vigils for Mr Mandela, who served 27 years in prison for his political activities before leading South Africa's transition from white-minority rule to democracy in the 1990s.
The Archbishop of Canterbury, the Most Reverend Justin Welby, reflected on Mr Mandela's life at the service.
He praised Mr Mandela's "extraordinary" courage and his "determination in the face of evil", paying tribute to his statesmanship in the aftermath of apartheid.
The Archbishop said: "Mandela had the capacity not only to have a vision for reconciliation, to combine courage and forgiveness in the most extraordinary alchemy of humanity but he also had a remarkable gift for turning that into practice.
"I remember clearly the forecasts of tens of thousands, hundreds of thousands of dead. When you see his capacity to turn that round, that says something about an inner force based in a vision of what humanity should be, that comes out of Christian teaching."
The service was led by the Rev Dr Sam Wells, Vicar of St Martin's, and there was a live link with a service at Christ the King Church in Sophiatown, Johannesburg.
Former poet Laureate Andrew Motion recited his poem To Nelson Mandela: A Tribute.
Mr Mandela died on Thursday evening aged 95 at his home in the northern Johannesburg suburb of Houghton after a long illness.
Downing Street said that Prime Minister David Cameron had written to South Africa's president Jacob Zuma and Mr Mandela's widow Graca Machel to express his condolences.
In the letter, the prime minister paid tribute to Mr Mandela's "extraordinary grace and dignity".
Mr Cameron added: "He gave the world new hope that the deepest wounds can be healed and that freedom and reconciliation can triumph over division and hate."
Mr Cameron will represent the UK at a memorial service commemorating the life of Mr Mandela in Johannesburg on Tuesday.
On Saturday, a minute's applause was held in Mr Mandela's honour before kick-off at football matches across the UK.
The Queen has sent her "sincere condolences" and said she was "deeply saddened" to learn the news of his death.
She met Mr Mandela on his state visit in 1996 and in the UK on several occasions after he stood down as president of South Africa.
But she will miss his funeral on 15 December. Buckingham Palace said in May it was reviewing the amount of long-haul travel the Queen undertook and the Prince of Wales has already represented her at the Commonwealth Heads of Government Meeting in Sri Lanka last month.
However, the Queen is reportedly expected to attend a national service of thanksgiving for the life of Mr Mandela at Westminster Abbey, which will take place in the new year.
Plans have also been revealed for the UK Parliament to host a special ceremony to commemorate his life.