Cameron: WTO trade deal worth $1bn to British business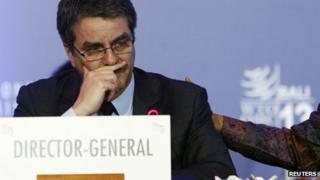 A "historic" deal reached by global trade ministers could be worth $1bn (£600m) a year to British business, Prime Minister David Cameron has said.
The World Trade Organization has agreed on trading terms for the first time since its foundation in 1995, with procedures to be simplified and some export tariffs for poorer nations cut.
Mr Cameron said he was "delighted".
Some economists estimate the deal agreed by the WTO could add $1tn (£600bn) a year to the global economy.
The BBC's Economics Correspondent Andrew Walker said the agreement - known as the "Bali package" - was part of a much wider programme of talks that were launched 12 years ago.
He said: "Getting even this partial completion of the negotiation - launched in Doha in the Gulf in 2001 - has been painfully slow."
The agreement could give the WTO new momentum, he added, but the "unfinished business" - which included negotiations over farm subsidies and trade in industrial goods - would still be "very hard to conclude".
WTO director-general Roberto Azevedo wept as he announced the deal between the 159 members.
Shadow business secretary Chuka Umunna said: "Following the delays and disappointingly slow progress we have seen in recent years with the Doha trade talks, this breakthrough with a new trade deal is welcome."
'Win-win'
Mr Cameron said the deal would help boost British exports, meaning that UK companies could grow and employ more people.
He said: "If just 100,000 small businesses either start exporting or spread to new markets over the next five years, this would generate an extra £30bn for the UK economy and create 100,000 new jobs."
At the same time, by slashing barriers to trade, it would provide a "lifeline" for poorer countries, he said.
"So this really is win-win and the World Trade Organization is to be commended for this historic deal."
Confederation of British Industry (CBI) director-general John Cridland said with many British businesses looking further afield at new export markets, the deal was "good news".
Mr Cridland said: "The new binding commitments to streamline customs procedures and cut red tape will help British exporters of all sizes to move their products more efficiently around the world."
Business Secretary Vince Cable said it was "hard work" securing a deal in Bali.
Congratulating the countries for coming together, Mr Cable said the deal was not only good for developing countries but would help create new markets for British businesses to invest in.