Nelson Mandela death: Football matches pay tribute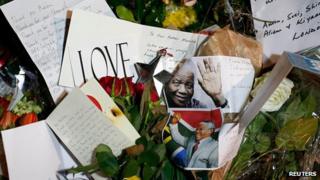 Premier League football matches have held a minute's applause before kick-off in honour of former South African President Nelson Mandela.
The Scottish Professional Football League and the Football League also recommended that similar tributes take place at their games.
Mr Mandela died on Thursday, aged 95.
A Friday evening vigil was held in London's Trafalgar Square, opposite the South African High Commission, where a book of condolence has been set up.
And an evensong service in memory of Mr Mandela took place at St Paul's Cathedral.
Long queues built up outside the South African High Commission as people gathered to sign the book of condolence, while flowers, candles and other tributes were laid at its entrance.
The book will only be available to sign this weekend between 09:30 and 14:00 GMT but the commission will reopen on Monday morning.
Downing Street said that Prime Minister David Cameron had written to South Africa's president Jacob Zuma and Mr Mandela's widow Graca Machel to express his condolences.
In the letter, the prime minister paid tribute to Mr Mandela's "extraordinary grace and dignity" and the example that he set "not just to South Africa but to the world on his release from Robben Island".
Mr Cameron added: "He gave the world new hope that the deepest wounds can be healed and that freedom and reconciliation can triumph over division and hate.
"He will forever have a distinguished place in history. It falls to all of us and future generations to learn from him and try to realise his extraordinary legacy."
Neville Lawrence, the father of murdered black teenager Stephen Lawrence, met Mr Mandela when he visited Britain shortly after Stephen was killed in 1993.
Mr Mandela said he was "deeply touched" by what had happened to the teenager, and Mr Lawrence said his compassion had given him the impetus to fight on. "Just his presence gave you confidence to do whatsoever you felt you needed to do," he said.
Jerry Dammers, the founder of The Specials and writer of Free Nelson Mandela, urged people to honour Mr Mandela's legacy by doing the work he started.
He said: "'The best way we can remember him and politicians can remember him - the best tribute they could pay to him - would be to listen to what he said and act on what he said."
Books of condolence were also set up across the UK including in Brixton, where huge crowds greeted Mr Mandela during his state visit to Britain in 1996, and at City Chambers, in Glasgow, where Mr Mandela visited in 1993, and which awarded him the Freedom of the City in 1981 while a prisoner under South Africa's Apartheid regime.
Further crowds gathered at the statue of the former president in Parliament Square to pay their respects and leave gifts.
The first tribute at a Premier League match was ahead of the Manchester United v Newcastle game at 12:45 GMT. The honour was to be repeated at six other games on Saturday, two on Sunday, and at the Swansea v Hull match on Monday.
On Friday, the Queen led the UK in sending her "sincere condolences" to the family of Nelson Mandela and to the people of South Africa.
She said she was "deeply saddened" to learn the news, saying Mr Mandela had "worked tirelessly" for the good of his country, and adding that his legacy was "the peaceful South Africa we see today".
A national service of thanksgiving for the life of Mr Mandela is to be held at Westminster Abbey after the state funeral in South Africa on 15 December. Plans have also been revealed for the UK Parliament to host a special ceremony to commemorate his life.