Typhoon Haiyan: UK disaster appeal raises over £73m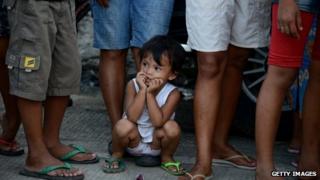 An appeal by British charities to help victims of Typhoon Haiyan in the Philippines has raised more than £73m in a month.
The Disasters Emergency Committee, a group of 14 aid charities, said it was the fourth highest amount raised of any appeal in its 50-year history, and described the scale as "extraordinary".
But it said millions affected by last month's storm were still facing a huge task to rebuild their lives.
The typhoon killed almost 6,000 people.
It also devastated hundreds of towns and cities and left millions of people without food, clean water and shelter.
The DEC said the vast majority of the money raised since it launched the appeal on 12 November had come from individual donations.
Only three other DEC appeals have raised more, it said, and they had all run for longer.
The committee said the donations had helped it, along with its partners, to reach almost 1.6 million people with aid.
'Had to help'
But it warned that almost 15 million people had been affected by the typhoon, which made landfall exactly a month ago, and some in more remote areas had still not received any emergency aid.
The priorities now for aid agencies are to provide longer term shelter, clean water and to secure food supplies, it said.
DEC chief executive Saleh Saeed said: "In homes up and down the country people have seen the devastation in the Philippines and decided that they simply had to help.
"In many cases we know they are facing considerable hardship themselves but they gave anyway."
He said the relief effort was ongoing but needed to be scaled up.
"We must also begin to support the affected people of the Philippines down the slow, hard road they face to rebuild their lives and livelihoods," he said.
Fundraising for DEC appeals continues for six months, so the final total will not be known until the end of March next year.