Firefighters to strike again over pensions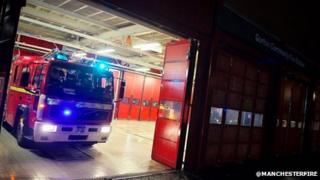 Firefighters in England and Wales have announced another round of strike action in their dispute with the government over pensions.
Members of the Fire Brigades Union (FBU) will walk out for four hours from 18:00 GMT on 13 and 14 December.
The government wants to raise firefighters' retirement age from 55 to 60 and to increase their individual pension contributions.
Firefighters have already been on strike four times since September.
The FBU said the government had just announced pension contributions for firefighters in England have been increased for the third year in a row to 14.2% of pay.
The union's general secretary Matt Wrack, said: "This further action is entirely the responsibility of central government.
"The government is ignoring our member's concerns about increasing contributions which will mean most firefighters paying more than £4,000 a year towards their pensions.
"At 14.2% of pay this is one of the most expensive pension schemes for workers anywhere in the UK."
The union fears firefighters will be made redundant if they fail fitness tests and are unable to find other work in the fire service if the retirement age is increased to 60.
Firefighters in Scotland have not been taking part in the strikes while the union considers proposals from the Scottish government on fitness requirements.
Mr Wrack said: "The government's plans are to create a pension scheme which takes no account of the physically demanding job firefighters do and the fire service fitness standards they need to meet.
"Expecting men and women at the age of 60 to meet the same fitness standards required of 20-year-olds is just not logical."