Hacking trial: Brooks 'agreed payment for William bikini snap'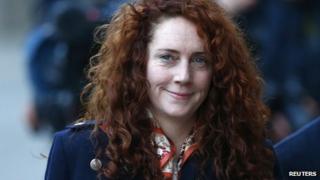 Former Sun editor Rebekah Brooks agreed a £4,000 payment to a member of the armed forces for a photo of Prince William in a bikini, a court has heard.
The soldier wanted the money in cash, and a reporter told his superiors the payment would "open the door for future exclusives", the jury heard.
Mrs Brooks, who was Sun editor at the time, denies conspiracy to commit misconduct in public office by paying public officials for information.
She is on trial at the Old Bailey.
Mrs Brooks, who is a former News International chief executive, also denies conspiracy to phone hack and perverting the course of justice.
'Bond girl'
Prince William had been at a James Bond party at the Royal Military Academy at Sandhurst, Berkshire, and was dressed as a Bond girl and wearing a bikini and an open Hawaiian shirt when the photograph was taken.
The court was shown a series of emails from 2006 in which a Sun reporter asked Mrs Brooks to agree to the payment. She replied less than 10 minutes later with a one-word response: "OK".
To avoid detection, the money was allegedly paid to a branch of Thomas Cook in Slough, Berkshire, in June 2006, where the prosecution claims it was collected by the wife of the soldier, who was based at Sandhurst.
The paper printed the story in September of that year with a "mock-up" picture of Prince William's head on a picture of a man wearing a bikini.
The jury head that Patrick Harrison, press secretary to the Prince of Wales, told a Sun journalist Prince William's privacy should be respected and the photograph should not be published.
The Sun reporter who was working on the story told his superior in the email later forwarded to Mrs Brooks that the picture had come via his "best contact at Sandhurst".
He claimed that although £4,000 "sounds like a lot", it would "open the door for future exclusives and info", the court heard.
"I'm worried if we don't meet his demands, this opportunity will pass," he wrote.
'Of course'
In separate evidence, the court was also told that another Sun reporter's "number one" or "ace" military contact was paid up to £100,000 for stories.
The court was shown a series of emails in which the reporter asked Mrs Brooks to authorise payments of between £500 and £4,500 for information that led to more than 50 stories being published in the newspaper.
The prosecution say the emails show Mrs Brooks replying "yes" or "of course" to the requests for payment.
It is alleged the money was wired to a branch of Thomas Cook where it was secretly collected by MOD official Bettina Jordan Barber.
The Sun journalists and the soldier cannot be named for legal reasons.