Lee Rigby trial: Adebolajo says victim was 'first soldier spotted'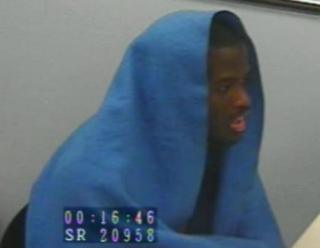 The men accused of murdering Fusilier Lee Rigby chose their alleged victim because he was "the soldier that was spotted first", a jury has heard.
In a police interview Michael Adebolajo said he and co-accused Michael Adebowale decided to wait near the barracks in Woolwich, south-east London, for a serviceman.
Prosecutors say the men drove at and attacked Fusilier Rigby on 22 May.
The men, on trial at the Old Bailey in central London, deny murder.
They also deny attempting to murder a police officer and conspiracy to murder a police officer.
Soldiers 'fair target'
During a police interview from 1 June played to the court, Mr Adebolajo, covered by a blue blanket with a copy of the Koran in front of him, said he had "set out determined that this way we will obey the command of Allah".
He said that neither he nor his fellow defendant - whom he referred to as Ismail - hated the family of Fusilier Rigby and it was "not a personal vendetta" against them.
The prosecution says Mr Adebolajo and Mr Adebowale drove a car into Fusilier Rigby at 30-40mph, before dragging him into the road and attacking him with knives and attempting to decapitate him with a meat cleaver.
Mr Adebolajo - who spoke to the police during his interview for almost 45 minutes with barely an interruption - said they had decided a soldier was the "most fair target because he joins the Army with kind of an understanding that your life is at risk."
"We sat in wait and it just so happened that he was the soldier that was spotted first," he said.
'Not in control'
Mr Adebolajo said it was "almost as if Allah had chosen" Fusilier Rigby.
"When he crossed the road in front of me so casually it was almost as if I was not in control of myself. I accelerated, I hit him and I think I also crashed into a sign post," he said.
The defendant continued: "We did not wish to give him much pain... I could see he was still alive.
"We exited the vehicle and I am not sure how I struck the first blow. The most humane way to kill any creature is to cut the jugular, this is what I believe, this is how we kill our animals in Islam.
"He may be my enemy but he is a man... so I struck at the neck and attempted to remove his head."
He said he considered Fusilier Rigby the "non-Muslim version of myself and my brother Ismail".
The police asked Mr Adebolajo, in what was his fourth police interview since he was released from hospital after being shot by police, if he expected to become a martyr.
He responded: "To be killed on the battlefield is not something we shy away from and in fact this is something that Allah loves."
In police interviews that were shown in court on Wednesday, Mr Adebolajo had said he was "disgusted" by members of Britain's political class whom he blamed for sending working class men to fight in Muslim countries.
In the interview shown on Thursday, he praised UK Independence Party leader Nigel Farage, because he does not "warmonger" and could be negotiated with by Muslims.
One of the police officers who interviewed Mr Adebolajo, Det Con Dhaval Bhatt, was asked by the defendant's barrister David Gottlieb if Mr Adebolajo was effectively saying he killed a British soldier in the course of a war.
Mr Bhatt replied that Mr Adebolajo "believed he was a soldier of Islam".
The court was later told how material covering jihad and martyrdom was found at addresses connected to both defendants.
The material included speeches by radical American Muslim cleric Anwar al-Awlaki.
And the jury also heard how after he was charged, Mr Adebolajo handed a note to police, saying it was the first document he had made "since killing a man and being shot by police" and that it would make the officer he gave it to famous.
The trial continues.