Abu Qatada: Trial date set for cleric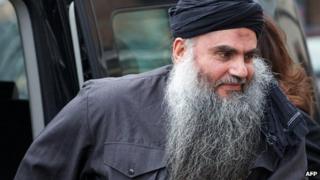 The trial of radical cleric Abu Qatada, who was deported from the UK in July, is to begin in Jordan next week, his lawyer says.
He will stand trial on 10 December for terror offences after an eight-year battle against deportation.
That fight through various courts ended after the UK and Jordan signed a treaty agreeing that evidence obtained through torture would not be used against him.
If convicted he could face at least 15 years in detention, AFP is reporting.
Defence lawyer Taysir Diab told AFP he would meet his client on Saturday ahead of the trial opening.
"The hearing, set for midday (09:00 GMT), should be public and open to the media," he added.
'Spiritual head'
The preacher, who is in his 50s, was convicted in absentia of plots against Westerners in Jordan between 1998 and 2000.
This latest court case is a retrial for those offences. Under Jordanian law, he has the right to a retrial with him present in the dock.
Abu Qatada, a Palestinian-Jordanian, was first arrested in the UK in 2001 over the alleged offences in Jordan and had been resisting deportation since 2005.
After his removal to a high security jail near Jordanian capital Amman in July, Home Secretary Theresa May said the UK government had been "vindicated".
During his time in the UK, Abu Qatada, whose real name is Omar Othman, mostly lived in London with his wife and children.
A Spanish judge, Baltasar Garzon, once described him as the "spiritual head of the mujahideen in Britain".