Domestic violence services 'at breaking point'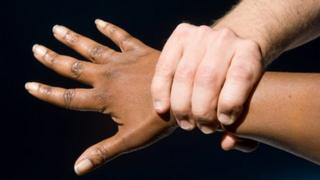 Services to help female victims of domestic violence are at "breaking point" because of "shocking gaps" in funding, Women's Aid has warned.
The charity said that, on one day in 2013, 155 women and 103 children were turned away from refuges in England.
The government could reduce the number of women and children hurt and killed by ensuring adequate funding, it added.
Ministers say they have "ring-fenced" £40m to fund "specialist local support services and national helplines".
Women's Aid, which has published the results of its annual survey, supports more than 350 domestic and sexual violence services across England.
Its survey found that:
Across 150 organisations that responded, 112 specialist posts were lost in 2013/2013 with the majority due to cuts in funding
Some 9,577 women and 10,117 children were given refuge accommodation last year by responding organisations
On the survey's "snapshot" day - 27 June 2013 - 155 women and 103 children were turned away from the first refuge they approached
Services 'hollowed'
Women's Aid chief executive Polly Neate said: "Specialist gender-specific domestic violence services are reaching a breaking point.
"Over 1.2 million women were estimated to have experienced domestic violence last year and two women a week are killed by perpetrators."
She said the government had "an opportunity to significantly reduce the number of women and children hurt and killed by violent partners by ensuring adequate funding for the sector".
But that opportunity must be taken "in the immediate future", she warned.
"If it is not, the safety net for women experiencing domestic violence in England will fall through, leaving even more women and children to be harmed and killed by people they should be able to trust."
She added: "We cannot afford to lose the services we have spent 40 years building up. We cannot afford to lose the experience of those who work in the sector and we cannot afford to lose the ties these services have to their communities."
The charity has said it is crucial "any new arrangements in welfare reform do not result in refuge services losing rental income and so facing closure".
'Prosecutions down'
Shadow home secretary Yvette Cooper said victims of domestic violence were being "denied specialist support and justice as services are being hollowed out".
"Too many women and children are being denied the help and support they need to keep them safe," she said.
"Domestic violence reports to the police are going up, yet there has been an 11% drop in prosecutions since the police cuts started and specialist domestic violence units have been hit.
"It's time for [Home Secretary] Theresa May to stop looking the other way and to take urgent action to address this growing crisis."
A Home Office spokesperson, meanwhile, said: "Domestic violence shatters lives and we need to do everything possible to prevent this dreadful crime.
"This government has ring-fenced nearly £40m of funding for specialist local support services and national helplines to help people escape abusive situations.
"We have also rolled out Clare's Law, domestic violence protection orders and extended the definition of domestic abuse to include 16 and 17-year-olds."
Last week, it was announced that Clare's Law, which enables people to check the police records of their partners, is to be expanded to cover all of England and Wales.
It has been piloted in Greater Manchester, Wiltshire, Nottinghamshire and Gwent since September 2012.
The scheme is named after Clare Wood, who was murdered by her ex-boyfriend George Appleton at her Salford home in February 2009.
She was unaware of his history of violence against women.
In September, Mrs May announced a review of the way police in England and Wales deal with cases of domestic violence.
Her Majesty's Inspectorate of Constabulary (HMIC) will report back to the Home Office in April.