Lee Rigby trial: Man pleaded 'do not kill' soldier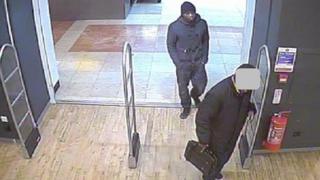 A witness pleaded with two men not to kill soldier Lee Rigby shortly before they allegedly attacked him with knives, the Old Bailey has heard.
In a written statement, Saraj Miah said one of the men had pointed a gun at him when he appealed to them to spare the soldier.
Michael Adebolajo, 28, and Michael Adebowale, 22, are accused of murdering Fusilier Rigby in Woolwich, south-east London, on 22 May.
They both deny the charge.
They both also deny attempting to murder a police officer and conspiracy to murder a police officer.
Defendant 'bought knives'
Earlier, the jury was shown CCTV images of Mr Adebolajo buying a five-knife block and a knife sharpener from an Argos store in Lewisham, south-east London, on the day before the attack.
The court was also shown CCTV images of Mr Adebolajo driving his Vauxhall Tigra with Mr Adebowale as passenger on the day of the killing.
The court heard that Mr Miah had been talking with a local shopkeeper just yards from where Fusilier Rigby was hit by a car from behind.
Mr Miah said he had seen two armed men get out of the car, adding that one of them had pointed a gun at him and told him to stay back when he urged them not to kill the injured soldier.
He said he had thought the "men with knives were going to kill him. I told them not to kill him. They did not listen to me".
One of the men then slashed Fusilier Rigby's throat, while the other stabbed him "six times in his chest", Mr Miah said in his statement.
He also described the man who had been driving the car walking around "as if nothing had happened".
'Sit and stare'
A witness statement from Amanda Bailey was later read to the court, in which she described seeing the car crash into Fusilier Rigby.
She said she had thought the soldier was dead and was so shocked that she dialled the number nine too many times on her phone when trying to contact the emergency services.
She thought one of the men who had hit Fusilier Rigby with the car was reaching for a phone to call the emergency services, but was shocked when she saw he actually had a knife, she said.
Ms Bailey then described in graphic detail her account of seeing one of the men attacking Fusilier Rigby with a cleaver.
"I was so shocked all I could do was sit there and stare and what happened, I couldn't believe what was going on," she said.
"He was determined and he wasn't going to stop. He didn't care. It was broad daylight and this man didn't care."
The court heard from a number of witnesses during the afternoon, who also gave details of the knife attack on Fusilier Rigby.
Gill Hucks said in her statement that she had been "shaking and very upset" at what she had witnessed.
She said she had seen one of the accused men "playing to the cameras" in the aftermath of the attack.
That view was echoed by Cheralee Armstrong, who told the court one of the accused men - who the prosecution say was Mr Adebolajo - had been "almost showing off" following the attack.
Members of Fusilier Rigby's family have been in court for both days of the trial. The soldier's widow, Rebecca, left the court in tears as the witness statements were read out on Monday.
The prosecution opened the trial on Friday, giving a detailed and, at times, graphic description of what they say happened when Fusilier Rigby, 25, of Middleton, Greater Manchester, was killed as he walked back to Woolwich Barracks.
The prosecutor, Richard Whittam QC, told the court that the defendants had driven a car at Fusilier Rigby at 30-40mph, before trying to decapitate him in the middle of a busy street in a "cowardly and callous murder".
The trial continues.