Chief whip Sir George Young to retire as MP in 2015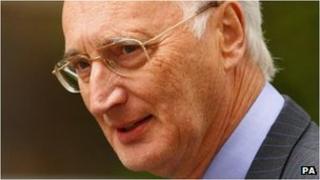 The government's chief whip, Sir George Young, is to retire as an MP in 2015.
In a statement on his website, Sir George said he would have enjoyed a "good innings" of 41 years in Parliament by the time he steps down.
The 72-year-old has been MP for North West Hampshire since 1997, and represented Ealing Acton from 1974-97.
He said he had been "lucky" to serve under the Thatcher, Major and Cameron governments, but now wanted to "declare on 41 not out".
Sir George announced his retirement to the North West Hampshire Conservative Association in Andover on Friday.
'Plebgate' promotion
"I have had a good innings and it is time to let others have the chance that I had back in 1974," he said.
"I know there are some top-quality candidates waiting in the wings to take over the baton."
Among his various government roles, Sir George served as financial secretary to the Treasury from 1994-95 and secretary of state for transport from 1995-97.
He succeeded Andrew Mitchell as chief whip following the "plebgate" row in 2012.
Sir George said he admired MPs who "are older than I am and who want to continue".
"It has been a privilege to serve both as the local MP with majorities varying from 800 to over 18,000," he told his local party.
"I enjoy my work as chief whip and I will continue to work hard for the party in Parliament; and here as your local MP right up to the wire, before handing over to my successor."