Clare Balding reveals grandma's gay revelation disgust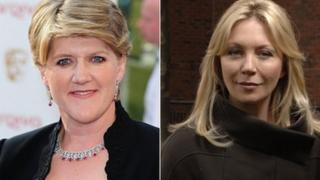 Clare Balding's grandmother told her it was "disgusting" she was gay, the sports presenter has revealed.
She said the comments came after her sexuality was made public.
Balding, whose partner is the former BBC newsreader Alice Arnold, was appearing on Radio 4's Desert Island Discs programme.
She also said she would not boycott the 2014 Winter Olympics in Russia over its gay rights record, insisting her going was "the right thing to do".
'Lifestyle choice'
The broadcaster, who fronted much of the BBC's 2012 Olympic Games coverage, said her parents knew she was a lesbian.
But when a national newspaper made it public she says she had to tell her grandma.
"I said 'Grandma, I need to talk to you' and she said 'Yes I should think you do'," she told presenter Kirsty Young.
"I said 'Have you seen the paper?' and she said 'Yes and I think it's disgusting'.
"I said 'What do you mean? The invasion of my privacy or my lifestyle choice' and she said 'Both' and I didn't talk to her for about six months after that which was pretty difficult."
She was asked whether she could work at the 2014 games in Sochi with a "clear conscience".
"Absolutely," Balding replied. "Because I think it's hugely important that I do go".
Russian welcome
The former jockey explained "morally" she "couldn't go to an all-male club" when she boycotted the Open golf tournament at Muirfield last summer.
But she ruled out taking another stand next February.
"It would make absolutely no difference at all to anyone in Russia would it?"
Gay rights campaigner Peter Tatchell said recently the best thing she could do to "show solidarity with gay Russians" was to present the BBC's coverage "as an openly lesbian woman".
The Russian administration has been criticised over a new law banning "homosexual propaganda" towards under-18s.
However President Vladimir Putin said in October gay "athletes, fans and guests" would be made to feel welcome during the games.
You can listen to Clare Balding on Desert Island Discs on BBC Radio 4 at 11:15 GMT