Jimmy Savile: 19 more hospitals to investigate links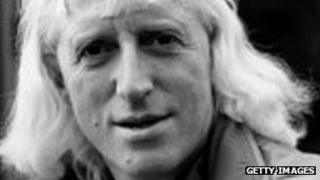 A further 19 hospitals are to carry out investigations after receiving police information about serial sex attacker Jimmy Savile, the government has said.
The Metropolitan Police have passed material about Savile to the Department of Health, which has given it to the 19 hospital trusts to investigate.
Health Secretary Jeremy Hunt said he expected reports on visits by the late DJ to those hospitals by next June.
It brings the total number of hospitals under investigation to 32.
Savile is believed to have abused hundreds of victims.
The former BBC presenter of Top Of The Pops and Jim'll Fix It died aged 84 in October 2011 - a year before allegations that he had sexually abused children were broadcast in an ITV documentary.
The revelations prompted hundreds of victims to come forward, including those who said they were attacked at a number of institutions.
Inquiries into Savile's alleged abuse of patients at NHS hospitals had originally focused on Broadmoor and Stoke Mandeville and Leeds General Infirmary, with a further 10 trusts added in January.
'Further investigation'
The Met passed information on the 19 additional hospitals to the Department of Health after completing a "document review".
Scotland Yard said this did not mean its own investigation was over.
"Inquiries are ongoing, and we continue to work with the Department of Health. Inquiries into criminal offences are not concluded yet," the Met said.
Mr Hunt said the NHS trusts responsible for each of the 19 hospitals would investigate the information provided by the Met.
In a written statement, he said Kate Lampard - a former barrister asked to oversee the Department of Health's investigations into Savile - would ensure the inquiries were properly carried out.
"Names of the hospitals are taken from the information received," Mr Hunt added.
"These include hospitals that may have closed in which case the information has been passed on to the legacy organisation."
'Long time ago'
Mr Hunt said he expected final reports by June next year, with publication "sooner if that is possible".
Jessica Standley, a solicitor from a firm representing more than 70 of Savile's victims, said she was concerned about delays in the Department of Health's investigation.
She said victims gave their statements a "long time ago" and are "eagerly" awaiting the results of investigations.
"What is concerning me is that the Department of Health have taken until now to include those additional hospitals," she said.
The 19 hospitals extra to carry out investigations are Barnet General Hospital, Booth Hall Children's Hospital, De La Pole Hospital, Dryburn Hospital, Hammersmith Hospital, Leavesden Secure Mental Hospital, Marsden Hospital, Maudsley Hospital, North Manchester General Hospital, Odstock Hospital, Pinderfields Hospital, Prestwich Psychiatric Hospital, Queen Victoria Hospital, East Grinstead, Royal Free Hospital, London, Royal Victoria Infirmary, Newcastle, Seacroft Hospital, Leeds, Queen Mary's Hospital, Carshalton, Whitby Memorial Hospital and Wythenshawe Hospital.
The 13 hospitals already carrying out investigations are Leeds General Infirmary, Stoke Mandeville Hospital, Broadmoor Hospital, High Royds Psychiatric Hospital, Dewsbury Hospital, Great Ormond Street Hospital, Moss Side Hospital (previously part of Ashworth Hospital), Exeter Hospital, Portsmouth Hospital, St Catherine's Hospital Birkenhead, Cardiff Royal Infirmary, Rampton Hospital and Saxondale Hospital.