Leveson Report: David Yelland says press misleading public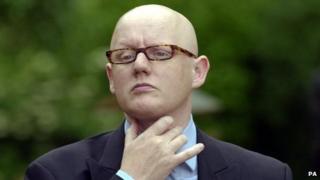 The press is misleading the public and engaging in hysteria over press regulation plans, according to a former editor of the Sun.
In a speech later, David Yelland is expected to accuse newspapers of censoring debate on the Leveson Report and its proposals for new press rules.
He will warn the public could end up with less protection than before.
A year on from the Leveson Report, he will say editors must show humility and acknowledge how much power they have.
Mr Yelland, who edited the Sun from 1998 until the end of 2002, will give the Leveson Anniversary Lecture at the Free World Centre in London.
'Lions led by donkeys'
During the speech he is expected to say the British press needs "truth and reconciliation" to rebuild its reputation.
He will say the Leveson Report has been misrepresented in parts of the press and will argue that its recommendations "make sense".
Speaking to BBC Radio 4's Today programme ahead of the speech, Mr Yelland said it is "undeniable" that the press has been unfair in what it has chosen to publish or not publish.
"Its most potent weapon is to totally ignore something," he said.
In his speech he will say editors need to show humility for the good of the journalists they lead, and will criticise those who shout and bully and pretend they are always right.
And he will call on editors and proprietors to acknowledge how much power they wield in British public life.
Mr Yelland told the Today programme that his experience of editing The Sun showed him that it was "an immense responsibility".
He said that the UK produces great journalists and yet "in many ways journalists in this country have been a little bit like lions led by donkeys".
Mr Yelland will say the industry finds itself "absolutely nowhere" a year on from Leveson.
He will say it would be "both unjust and deeply depressing" if the public has less protection in another year's time that they did before the inquiry, which was prompted by revelations of phone hacking by journalists.
We should not be in a position, he will say, where the next Christopher Jefferies is "not able to challenge the newspapers that falsely accused him of murder".
Mr Jeffries, a retired school teacher, won damages from eight newspapers who had linked him with the murder of Joanna Yates in Bristol in December 2010.
'Unacceptable interference'
In his November 2012 report, Lord Leveson suggested continued self-regulation by the newspaper industry, but said a new standards body was needed and should be backed by legislation.
In a move not suggested by the report, politicians from the three main Westminster parties agreed on a royal charter to create a new watchdog with the power to impose fines and demand upfront apologies from UK publishers.
The newspapers said some of the recommendations were unworkable and gave politicians an "unacceptable degree of interference".
In his speech, Mr Yelland will support the royal charter and say a rival plan submitted by the press would not have delivered what Lord Leveson called for.
He told the Today programme: "I'm someone who wanted to be a journalist from year dot...If I thought this was about state control I would not be saying what I'm saying."
Pointing out that Radio 4 is regulated by Ofcom and the BBC Trust, he added: "Are you state controlled? No you're not. The idea that you have a regulator behind you does not mean you are state controlled."