Westminster has most civil unions in 2012, says ONS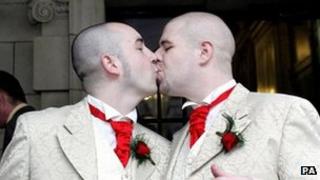 Westminster was the most popular place in the UK last year for gay and lesbian couples entering into civil partnerships, latest figures show.
There were 224 civil partnerships in the central London borough in 2012, out of a total of 1,618 across the capital.
The city-wide figure had fallen by 7% since 2011, Office for National Statistics figures showed.
The top boroughs for civil partnerships were Westminster, Islington, Kensington & Chelsea, Camden and Southwark.
Across the UK the number of same-sex dissolutions in 2012 increased by 20% to 794, almost 60% of which were among female couples.
This compared with Barking and Dagenham, in east London, which had just six.
About three-quarters of those entering into a civil partnership in the capital were male, the figures showed.
Brighton & Hove recorded the second highest number of civil partnerships in the UK in 2012 with 220 partnerships.
There were 7,037 civil partnerships in the UK, an increase of 3.6% since 2011.
"Next summer, same sex couples will be able to marry when the Marriage (Same Sex Couples) Act comes into force," said Toby Hales from legal firm Hodge Jones & Allen, which specialises in legal advice for same sex couples.
"It will be interesting to see whether civil partnership as an institution survives after the introduction of gay marriage, as I can't see any legal or practical reason to opt for it when marriage becomes available."
"With a rising number of dissolutions, couples should consider pre-partnership agreements to avoid acrimonious arguments over who owns what if the relationship breaks down."