Paris gun suspect was arrested in UK earlier this year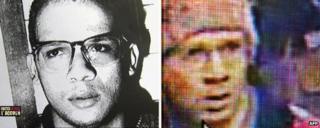 The alleged gunman who sparked a huge manhunt in France was arrested and sentenced for crimes in Britain earlier this year, it has emerged.
Abdelhakim Dekhar allegedly attacked a Paris bank and a newspaper office, shooting one person, on 18 November.
French paper Liberation - where a 23-year-old worker was shot - revealed he received a community order for assault and domestic violence in the UK.
It is believed he served his sentence before travelling to France.
Mr Dekhar is accused of shooting a photographer's assistant at Liberation's offices, causing serious injuries.
Shots were fired later the same day in front of the headquarters of the Societe Generale bank.
Mr Dekhar, 48, was arrested in a Paris car park and faces preliminary charges of attempted murder and kidnapping.
Police surveillance
According to Liberation, he was placed under a curfew for six months, tagged and released to carry out community service following his conviction in the UK earlier this year.
Hertfordshire Police told the BBC Mr Dekhar had been electronically tagged and had complied with tagging conditions until 16 July, when the order expired.
St Albans Magistrates' Court confirmed he was dealt with there in January.
It is believed Mr Dekhar lost an appeal on this case in October and travelled to France soon afterwards.
French authorities have said Mr Dekhar was jailed in 1998 for his role in a string of fatal shootings in Paris.
He was sentenced to four years in jail but was released soon after the verdict, having already served his time in pre-trial detention.
He was supposed to be under police surveillance in France because of his links with radical groups - including terrorists - but French police took three days to track him down.