FA to target adult misconduct at youth level football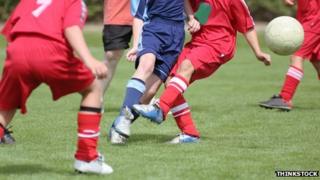 Almost 4,000 misconduct offences have been committed by adults at youth level football, according to the Football Association.
The figures were collated from matches in England involving under-18s teams during a 15-month period.
The FA will now offer new "awareness" courses to club officials who have been found guilty of a misconduct charge.
"We consider it to be a huge priority," said Dermot Collins, the FA's respect manager.
BBC 5live Investigates asked the FA to collate figures for misconduct offences that have occurred at youth football matches at grassroots level. This is the first time the FA has quantified the scale of the problem.
The FA provided figures from all 50 county associations across England.
The reports mainly came from match officials who had witnessed improper behaviour, such as offensive remarks directed at referees and physical fights between parents or between opposing club managers.
They relate to incidents recorded last season (2012-13) and so far this season (up to November 2013).
In total, there were 3,731 cases of misconduct involving adults at under-18 matches.
Of those, 1,057 involved incidents where clubs were charged with failing to control spectators or players - with the vast majority related to trouble caused by spectators.
'More hard-hitting'
Mike Bacon is a youth team coach in Suffolk: "I know of a game last year that was stopped for five minutes while two parents were separated on the sidelines. The players and the referee just stood there watching while the rest of the parents separated them. That was an under-13s game."
"If parents don't get it, particularly at a younger age, perhaps we should get to the stage where they drop their children off or take them to the game but don't watch," he added.
Manchester County Football Association says it is now starting a zero tolerance approach to the problem and will start publishing online the names of clubs and teams which have been charged for failing to control spectators.
"We are going to name and shame the teams and the age groups which have poor spectators and which have had cases proven," said Colin Bridgford, chief executive officer of Manchester FA.
"It's got to be more hard-hitting. I think some parents are sick and tired of the same parent who is coming to the game giving abuse from the sidelines."
The ex-England striker Gary Lineker recently said he believed pushy parents are damaging England's chances of developing top-class players, and called for a "parental culture revolution".
One referee from Swansea, 67-year-old Clive Steward, suffered a broken nose and needed 19 stitches after being assaulted by a parent in 2009.
He told 5live Investigates the situation is as bad as ever - and it's not just parents who are out of control.
"A junior game about three weeks ago... was abandoned with only three minutes left. I gave an obvious penalty, they take the penalty, they score, and then all hell let loose.
"They were having a go at the opposing players. The manager was telling his players, 'Get stuck in to them, kick them' - it was like a kettle beginning to boil."
The FA figures released exclusively to the BBC show that in a 15-month period between July 2012 and November 2013, 975 adults, including team managers and coaches, were charged with improper conduct against match officials.
The remaining 1,699 incidents related to other improper conduct offences such as verbal disputes between team officials.
'Positive environment'
From January 2014, the FA is introducing a pilot scheme across 10 county associations offering new educational courses - the equivalent to the disciplinary speeding course that drivers are sent on.
The courses are not a replacement for fines or suspensions but are intended to get people to think about the impact of their behaviour.
They will predominantly be aimed at managers, coaches and in some cases spectators who have been found guilty of non-violent misconduct charges - such as abusing referees or threatening behaviour.
"It takes inspiration from the speeding courses. They are invited to attend a course where they get to really understand the implications of their actions," said Mr Collins.
"Instead of people just being fined further or receiving further suspensions, they trade some part of that suspension or in other cases are just obliged to attend the course."
The 10 county football associations are Essex, Manchester, Bedfordshire, Lancashire, Surrey, Northamptonshire, Oxfordshire, Leicestershire, Liverpool, and Nottinghamshire.
"One of our fundamental priorities is trying to create a really positive environment where kids can learn the game and where they fall in love with football and develop a lifelong attachment to it.
"If that is marred by poor spectator or parental behaviour or inappropriate behaviour by team managers then that can ruin that experience both for an individual player, or for an entire team," Mr Collins said.
5live Investigates is broadcast on BBC Radio 5live on Sunday, 1 December at 11:00 GMT.