Acid victims' families demand UK government action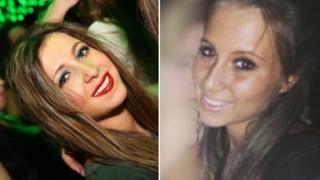 The families of two British women targeted in an acid attack in Zanzibar say the UK government must apply more pressure on the Tanzanian authorities.
There was no "sense of urgency" from the Foreign Office and a photo of a suspect arrested by police had not been shown to them, they said.
Kirstie Trup and Katie Gee, both 18 and from London, were attacked by two men on a moped in August.
The Foreign Office said it "provided every assistance that we can".
Speaking to BBC Radio 4 Today programme reporter Zubeida Malik, Kirstie's father Marc Trup said that progress towards prosecuting those responsible for the attack, which left the volunteer teachers with burns to their faces, chests and hands, was too slow.
"I suspect the Tanzanian authorities don't take the Foreign Office remotely seriously," he said.
Doug Morris, the partner of Katie's mother, said: "If the Foreign and Commonwealth Office are as committed to helping to bring these people to justice on behalf of two British citizens, then you would expect them to move hell and high water to do that. And there just doesn't seem to be any sense of urgency to conclude matters."
They were particularly frustrated by confusion over how to get a photograph of a suspect to the women.
"There is a suspect on bail, there is a supposed photograph of the suspect, to be identified by the girls," said Mr Trup.
"The photograph cannot be sent in the correct format that is acceptable by Interpol, or the British authorities, and as a consequence of that nobody has seen the photo."
It had not been explained to the families whether the problem related to the type of computer file being used or paperwork, he said.
"It just seems ridiculous that we haven't seen it and the girls haven't seen it and, as time goes on, their memory will fade," said Mr Trup.
In a statement the Foreign Office said it had "provided every assistance" to the families, but "cannot interfere in another country's police investigation".
"However, the British Government has stressed the importance of a thorough police investigation to find the perpetrators of the attack and to ensure they are brought to justice."
Neither woman understands why they were targeted, the families said, adding that they had been dressed appropriately for a Muslim area and respectful of local customs.
Miss Trup is "progressing mentally and physically", said her father.
But she will have to wear a pressure garment on her burns 23 hours a day for a whole year and visits hospital once a week for physiotherapy.
Mr Morris said Miss Gee was "remarkable - she is very strong mentally and just coping with the process of healing".
But it remains the case that they and their families want to see justice being done.
"I would like to see whoever threw that acid brought to justice," said Mr Trup. "I don't blame the country, I don't blame the religion, I blame the person."