Anti-social injunction plan 'threat to free speech'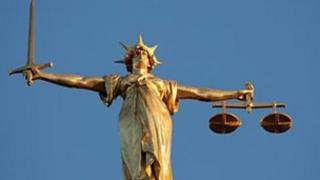 Carol singers and charity collectors could find themselves before courts under a planned law aimed at cracking down on nuisance behaviour, a new cross-party campaign group has warned.
Injunctions to prevent nuisance and annoyance are to replace anti-social behaviour orders in England and Wales.
Ministers say Ipnas will be easier to obtain and enforce than Asbos.
The Reform Clause 1 group say the bill is too sweeping and will have a "chilling effect on free speech".
Peers are currently debating the proposals and the campaign hopes to persuade politicians that the reform - contained within Clause 1 of the Anti-social Behaviour, Crime and Policing Bill - should be rewritten.
Former shadow home secretary David Davis, human rights campaigner Peter Tatchell and former Director of Public Prosecutions Lord Macdonald, are among those opposed to the legislation.
They say it is so badly drafted that almost any action could be construed as causing a nuisance.
The campaign also has the support of a number of groups including Big Brother Watch, the Christian Institute and the National Secular Society.
'Massive power'
Keith Porteous Wood from the National Secular Society said: "This draconian legislation could be applied to ordinary people from football fans to political campaigners."
He said the government had made "vague promises" that Ipnas will never be used in an inappropriate fashion but this was "simply not good enough".
He added that parliament's Home Affairs Committee and the Joint Committee on Human Rights had called for greater clarification in the legislation.
Reform Clause 1 campaign director Simon Calvert said protesters, street pastors and people expressing strong opinions in public could also be affected.
He said: "This is a crazy law. It will not deter thugs and hooligans who are normally already breaking lots of other laws anyway.
"But it will give massive power to the authorities to seek court orders to silence people guilty of nothing more than breaching political correctness or social etiquette."
Mr Tatchell said: "What constitutes annoyance is a very subjective judgment. There is a danger that this legislation could be abused to target legitimate freedom of expression that some people might find annoying."
The Home Office says measures contained in the bill aims to provide better protection for victims and communities.