Naming Afghanistan case Marines 'risks life and limb'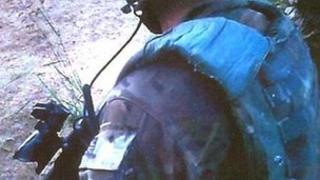 A ruling that five Royal Marines can be named, after one was convicted of killing an Afghan, should be overturned because it would cause "risk to life and limb", judges have been told.
"Marine A" was convicted three weeks ago of shooting an injured insurgent.
He and the four others are challenging a ruling that an anonymity order should be lifted now a court martial is over.
Judges at London's Court Martial Appeal Court have reserved their decision to a date yet to be arranged.
They have also been asked to rule on a challenge by the media on orders preventing the release of video and stills from the case.
'Malign intent'
The sergeant, known as Marine A, was convicted at a court martial in Bulford, Wiltshire, and faces a mandatory life term when he is sentenced on 6 December.
Marines B and C - who were both cleared at the trial - had been accused of being "party to the killing" and were said to have "encouraged and assisted" Marine A to commit the murder, in September 2011.
Charges against two other marines involved in the appeal, referred to as D and E, were dropped in February.
Judge Advocate Gen Jeff Blackett ruled that the anonymity order should be lifted at the end of the trial.
At the time, he said: "The principle of open justice is immutable and must only be restricted where either the administration of justice would be seriously affected without the grant of an order for anonymity or there would be a real and immediate risk to the personnel were anonymity not granted.
"This is not a case relating to the administration of justice and I am not satisfied that those who seek a continuance of the anonymity order have demonstrated that the fear that the marines' lives will be at risk is objectively well-founded."
But the order will remain in force until the Court Martial Appeal Court makes its decision.
On Wednesday, Hugh Tomlinson QC, representing three of the men, told Mr Justice Tugendhat and Mr Justice Holroyde: "We say that the evidence establishes real and immediate risk.
"If it doesn't go that far it plainly establishes some risk, and that risk is to life and limb and also psychological harm."
He referred to the "long-standing" threat to UK military personnel from terrorist groups and said there could be "no doubt, we say, on any view, that the risk increases if these individuals are named".
"That is particularly so in relation to Marine A and his family."
He said Marine A's family had been approached by journalists on many occasions.
"If the media can find them so can people with malign intent," Mr Tomlinson added.
But David Perry QC, for the prosecution, said open justice required that those accused and convicted of criminal offences should be named, as should those acquitted of crime.
"The learned judge [Gen Blackett] was entirely correct to conclude that the ruling [in favour of anonymity] could not stand," he said,
Insurgent attack
Marine B had inadvertently filmed the murder on his helmet-mounted camera.
It showed Marine A shooting the Afghan prisoner with a 9mm pistol and saying: "There, shuffle off this mortal coil... it's nothing you wouldn't do to us."
The murder took place after a patrol base in Helmand Province came under attack from small arms fire from two insurgents.
The Afghan prisoner was seriously injured by gunfire from an Apache helicopter sent to provide air support, and the marines found him in a field.
The case was the first time British forces had faced a murder charge in relation to the conflict in Afghanistan.