Christmas rail services: Trains cut by engineering work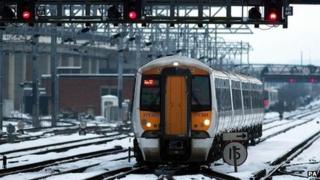 Gatwick Airport users face a week of disruption, with express services from central London cancelled from Christmas Day until the end of New Year's Day.
The closure of the Gatwick Express service from Victoria is part of planned rail engineering works over the holiday period.
Separate work will affect some services to Heathrow and Manchester airports.
Work is scheduled in other parts of England, but few disruptions are planned to lines in Scotland and Wales.
Replacement buses
The tranche of engineering work at Gatwick, Victoria and between Redhill and Purley stations in Surrey, will also affect services operated by First Capital Connect (FCC), First Great Western (FGW) and Southern train companies.
Certain trains will not run over the festive period, with bus replacement services operating.
Engineering work is also taking place:
Between Paddington in London and Slough in Berkshire from 27 December to 3 January, bringing disruption to some First Great Western services, while some Heathrow Express services will be affected from 30 December to 1 January
Between Oxford and Hanborough from 27 to 29 December, while FGW services and those run by CrossCountry are being disrupted by engineering work between Reading and Basingstoke from 27 to 30 December
Between Maidenhead and Marlow from 27 to 29 December. FGW passengers will have to use buses instead of trains, while FGW services will also be disrupted from 29 December to 3 January by engineering work between Reading and Didcot Parkway
Between Retford and Lincoln, and between Gainsborough Lea Road and Lincoln, meaning buses replace trains between Doncaster/Retford and Lincoln from 21 December to 5 January
Between Manchester Piccadilly and Manchester Airport stations with lines closed at various times from 23 to 27 December. Buses will replace trains on some routes
In the Manchester Victoria area, which will affect Northern Rail services between 27 December and 1 January
Between Spalding and Sleaford in Lincolnshire, meaning that from 28 to 30 December East Midlands Trains passengers will have to take buses instead of trains
Between Surrey Quays and New Cross Gate/New Cross on the London Overground between 23 and 27 December
Elsewhere:
A £19m upgrade at Gravesend station in Kent will mean Southeastern will not run any trains from or through Gravesend between 22 December and 5 January. Buses will replace the Gravesend trains. The work will also affect Southeastern's high-speed services
Platforms one to nine will be closed at London Waterloo station in London from 27 to 29 December, with disruptions to South West Trains services
On the Tube, there is track replacement work at Earl's Court in west London, resulting in part closures on the District and Piccadilly lines between 27 and 30 December. Sections of the Northern and Jubilee lines will also be closed
On the Victoria, Gatwick and Surrey disruptions, Network Rail Sussex route managing director Tim Robinson said: "These are three significant infrastructure upgrades which have been carefully planned to take place at the same time to keep disruption to a minimum."
'Better network'
Michael Roberts, director general of rail industry body the Rail Delivery Group, said passengers were benefiting from one of the biggest investment programmes in the history of the railway.
"Building a better network is something we do every day. But Christmas and other major holidays are when the railway is less busy than on a typical weekday. So we use these periods to carry out particularly important improvements," he said.
"A great deal of care goes into minimising the impact of this vital work and to keep people on trains wherever possible. By planning ahead, the vast majority of passengers travelling by rail over the festive period can expect to travel without disruption."