Profile: TV cook Nigella Lawson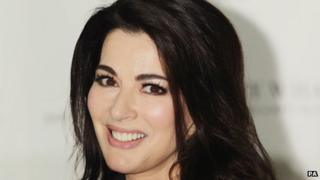 She first taught us how to eat, then how to be a domestic goddess. Nigella - one of a handful of TV cooks with whom Britain is on first-name terms - has charmed millions of fans by turning mundane home cooking into a seemingly sensual experience to be enjoyed as a viewer from the comfort of our sofas.
Flirtatious with the camera and generous with the butter, Nigella Lawson, 53, delivers her brand of TV cookery with a wink and a lick of her fingers. It's a style she insists is intimate rather than tongue-in-cheek, and one that has brought her great success at home and, more recently, in the US.
But that success has not been mirrored in her personal life. In little under six months, her 10-year marriage to millionaire art collector Charles Saatchi has collapsed after pictures were published of him apparently grabbing her throat.
On top of that, Lawson has admitted to taking cocaine, in a courtroom drama that is being played out around the world.
Cancer battle
Lawson was born in London, the daughter of future Conservative Chancellor of the Exchequer Nigel Lawson and the socialite Vanessa Salmon.
Food was an early love. After studying medieval and modern languages at Oxford University, she first worked in publishing but soon went on to a media career, writing restaurant columns for the Spectator in 1985.
By the following year, she had become deputy literary editor of the Sunday Times. It was there that she met the journalist John Diamond, whom she later married. The couple had two children - Cosima and Bruno. In 2001, Diamond died after a battle with throat cancer that was documented in his newspaper column.
A spell as a freelance writer followed her time at the Sunday Times during which she contributed to other UK newspapers, Vogue and the US's Gourmet, and wrote her first book, How to Eat.
Its successor - How to be a Domestic Goddess - promised readers they too could feel like a goddess by whipping up a tray of muffins or baking a sponge cake. It won Lawson author of the year at the 2001 British Book Awards, beating the likes of Harry Potter author JK Rowling.
That same year, she turned down the honour of being appointed an OBE for services to journalism and cookery.
Her career then entered another level with her first TV series, Nigella Bites, on Channel 4, and her own kitchenware range. She also oversaw a lunch menu for the then Prime Minister Tony Blair and US President George Bush.
Further TV series followed, including Nigella's Christmas Kitchen, Nigella Express and Nigellissima.
Mostly, the emphasis was on simple dishes of comfort food. Her favourite dish is roast chicken, with mashed potatoes and roast potatoes.
Last year, she travelled to the US to star in a reality cooking show, The Taste. A UK version of it is planned for broadcast on Channel 4 in 2014.
As a growing band of fans switched on to see Lawson, with her silky hair and flawless complexion, cooking chocolate treats for her loved ones in her vast kitchen, life off-camera was not as idyllic.
Soy sauce splodges
In 2003, Lawson married Charles Saatchi, a former advertising executive and owner of the Saatchi Gallery.
The 70-year-old is often referred to as a recluse and has famously said he does not turn up to his own exhibition openings.
For most of their marriage, the couple managed to keep their personal life private.
Lawson would offer only the occasional insight into their world, such as her husband's preference for Weetabix over anything she cooked and how her blankets were splodged with soy sauce because she liked to eat in bed.
However that all changed in June when photographs were published of Saatchi apparently grabbing his wife's throat outside a London restaurant.
Saatchi dismissed the incident as a "playful tiff" but later accepted a police caution for assault, saying he had done so to stop the incident "hanging over" them. Lawson made no comment on the incident.
The images provoked a public debate about domestic violence among the rich and famous, and in July, the couple divorced after 10 years of marriage.
'Off your heads'
Less than four months later, Lawson's face was back on the front pages under glaring headlines, claiming she was "off her head" on drugs.
The allegations were made in court ahead of a fraud trial of sisters, Francesca and Elisabetta Grillo, accused of spending more than £685,000 on designer clothes and first-class travel for themselves while working as the couple's personal assistants.
The Grillos' defence claimed Lawson allowed them to spend on credit cards in return for covering up her use of cocaine from Saatchi.
In an email read out in court, Saatchi wrote to Lawson accusing her and her daughter of being "so off your heads on drugs that you allowed the sisters to spend whatever they liked".
Giving evidence, Lawson admitted taking cocaine a handful of times with her first husband when he was terminally ill and again, in 2010, during a difficult and unhappy time.
She denied having a drug problem or being an addict.