Foreign Office apology for Egypt rape victim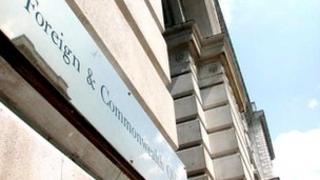 A British woman who was raped in Egypt has received an apology and £1,000 in compensation from the Foreign Office after it failed to provide proper support to her.
The woman believes her attacker was an Egyptian military officer and she asked the UK embassy in Cairo for help.
Her unhappiness at the response led to an official complaint, which has been upheld by the Parliamentary Ombudsman.
The Foreign Office says it has changed procedures and training.
A spokesperson says it deals with around 19,000 consular cases a year and are always saddened "when we fall below our high professional standards".
The inquiry into the case by the Parliamentary Ombudsman Dame Julie Mellor found the Foreign Officer was guilty of "maladministration and injustice".
Dame Julie's report says the embassy did not tell the woman - referred to only as Ms M - they could accompany her to report the crime, and help find a female doctor to examine her.
"Ms M was far away from home, she had been through a terrifying ordeal, and the FCO were the only authority she could approach for help. She should have been able to rely on them to fulfil their role and assist her when she was at her most vulnerable," the report said.
'Lack of sensitivity'
Ms M was raped in May 2011 after being stopped at a checkpoint while travelling in the Sinai region, three months after the uprising which overthrew President Hosni Mubarak.
With the help of a friend, she contacted the Foreign Office, initially through its Global Response Centre in London.
She went on to report the attack to police, but she says the situation was "extremely intimidating".
When Ms M failed to attend military headquarters for a further interview, an officer interviewed her at a friend's apartment and required her to re-enact what happened when she was assaulted.
Ms M was in telephone contact with the embassy in Cairo and said it would have made a "huge difference" if she had be told that an official could have been with her.
She complained to the Foreign Office on her return to the UK about being treated with "impatience, rudeness and a serious lack of sensitivity" by its staff.
The complaint was initially rejected, but the human rights charity Redress and then the ombudsman became involved.
Sir Simon Fraser, head of the UK's diplomatic service, said: "We apologise unreservedly to Ms M for the mistakes we made in her case and fully accept the recommendations in the ombudsman's report.
"We remain committed to delivering a high-quality consular service to British nationals overseas, particularly to those who are most vulnerable."