Hacking trial: Clive Goodman's tape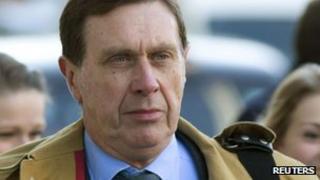 The News of the World phone-hacking trial has heard a recording of the newspaper's former royal editor Clive Goodman talking to his then editor Andy Coulson about the potential fallout from his original prosecution for phone hacking.
In the 2006 recording, made by Mr Goodman, Mr Coulson says that he does not want the reporter to lose his job over the court case.
Goodman taped the conversation as he prepared to face court after being charged with phone hacking alongside private investigator Glenn Mulcaire.
He subsequently pleaded guilty and was jailed in 2007, alongside Mulcaire.
Three weeks before pleading guilty, he spoke to Mr Coulson about the prosecution and also his future at the newspaper.
The jury heard Mr Goodman saying he was "terrified". He says the case against Mulcaire was "quite massive" and later adds that he was "rapidly emerging as something of a nutter".
He says that the police have "picked up all sorts of stuff" from Mulcaire's home, including "other names" and Pin numbers. But he adds that his barrister, John Kelsey-Fry QC, said the case against Mr Goodman would be limited.
Mr Coulson turns to the reporter's position at the company.
"There was one thing that you mentioned ... that I need to clarify with you," says Mr Coulson.
"And that's this idea that it's a foregone conclusion that you're going to be dismissed. I thought I made it clear to you that's not my intention at all. It's not a foregone conclusion that you will be dismissed.
"I can't sit here and make predictions in the same way you can't. I can't tell you with 200% certainty that this is how this business is going to end.
"But I can tell you that, you know, as the editor, what the intention is... and the intention is to give you every possible support through this process. You are the one at the sharp end of it. My absolute intention is to be able to say at the end of this that... we are going to continue to employ you."
"That's great," replies Mr Goodman.
Mr Coulson goes on to say that he has a "duty of care" as the editor and he floats the idea of a few possible new posts away from front-line reporting, before adding: "I don't want you to lose your job."
Mr Goodman and Mr Coulson also discuss "danger points" of the investigation.
"In terms of what, mate?" says Mr Coulson
"In terms of the paper," replies Mr Goodman.
"Err what, the other individuals you mean... the other names?"
Mr Goodman says: "The other people, named, identified, yeah."
"You know there's been all sorts of names and all sorts of allegations - it comes down to what they think they can prove. And indeed what the truth is," says Mr Coulson.
"Those names mean absolutely nothing to me. From what I understand they're not tracing those names back to the paper. They're saying that these people had phones, that their phones were interfered with in some way... but there's no direct link to the News of the World."
Mr Goodman says there is one that "has a link to the News of the World" before later adding: "but there's no sort of forensic phone evidence that links everyone together."
Mr Coulson denies conspiracy to hack mobile phones to listen to voicemails. He and Mr Goodman are also charged with conspiracy to commit misconduct in a public office by paying officials for information - something they both deny.