Hacking trial: 'Rebekah Brooks said hacking voicemails easy'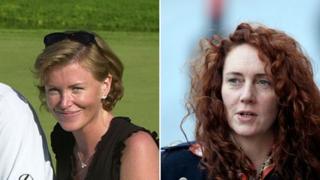 The ex-wife of golfer Colin Montgomerie has said former News of the World editor Rebekah Brooks told her she "couldn't believe how easy it was" to access people's voicemails.
Eimear Cook told the phone-hacking trial Mrs Brooks had also said it was "ludicrous" that people did not know how to protect their privacy.
The two met at a private lunch in London in the autumn of 2005.
Mrs Cook said they had discussed press attention following her marriage split.
She told the court it had felt "like the papers were doing a hatchet job" on her, and mutual friends had suggested a meeting with Mrs Brooks - then Rebekah Wade - who was the editor of the Sun at the time.
'Gossipy'
Mrs Cook, who has since remarried, said: "We discussed a lot about public figures, people in the media, in a gossipy, fun way.
"I remember the topic of how easy it was to listen to their voicemails, as long as they hadn't changed their factory settings.
"She said that it was so easy to do and she couldn't believe that famous people... that they would have all these advisers and all you needed to do was change the Pin code to make the voicemail secure."
Mrs Cook told the court Ms Wade had referred to a story about former Beatle Sir Paul McCartney which she took to be a reference to a story gained by hacking.
The jury was also shown a News of the World story from January 2005 about the Montgomeries' divorce, which described terms of the draft divorce settlement and the golfer's "temper".
Asked if those details had been in the public domain at the time, Mrs Cook said "no", adding she was not aware of how they may have become known.
When challenged by Mrs Brooks' counsel Jonathan Laidlaw QC, who presented the court with magazine articles in which Mrs Cook had appeared to offer "frank" details of her private life, she said she never gave an interview about difficulties in her marriage.
'Lie'
The court was also shown a copy of Mrs Cook's statement to the police about the lunch.
The statement also included Mrs Cook recalling a "frank" Rebekah Wade discussing being in the papers for allegedly assaulting her then-husband, the EastEnders actor Ross Kemp.
But Mr Laidlaw said that element of the conversation could not have happened because the incident did not happen until November 2005, six weeks after the lunch meeting.
"I am sorry to suggest this, however I make no apology - you have, I suggest, lied to the jury," he said.
Mr Laidlaw said the matter of phone hacking did not arise either. "It was not discussed by Mrs Brooks," he said. "This is a lie you have told the police and the jury."
Mrs Cook said it was not a lie and she had no grievance against Mrs Brooks whatsoever.
She told the court she might have got her dates mixed up when trying to remember the year she met Mrs Brooks - the only time the two had met.
Mrs Brooks denies conspiracy to phone hack, conspiracy to commit misconduct in public office, and perverting the course of justice.
She is one of eight people who deny a series of charges. Five are former News of the World journalists.
Earlier on Monday, the jury heard a recording that former News of the World's royal editor Clive Goodman made in November 2006 of a phone conversation between him and his then-editor, Andy Coulson.
Mr Goodman was preparing to go to court after he had been charged with phone hacking under the original investigation.
He subsequently pleaded guilty and was jailed in 2007, alongside private investigator Glenn Mulcaire.
In the phone call - made three weeks before Mr Goodman pleaded guilty - Mr Coulson told the paper's former royal editor it was "not a foregone conclusion" that he would be sacked.
"I absolutely see a future for you", he said.
"I can't tell you with 200% certainty that this is how this business is going to end. The intention is to give you every support. You are the one at the sharp end of it. I'm telling you now as we get closer to the court date, my absolute intention is that we're going to continue to employ you."
Mr Goodman was subsequently sacked.
The trial continues.